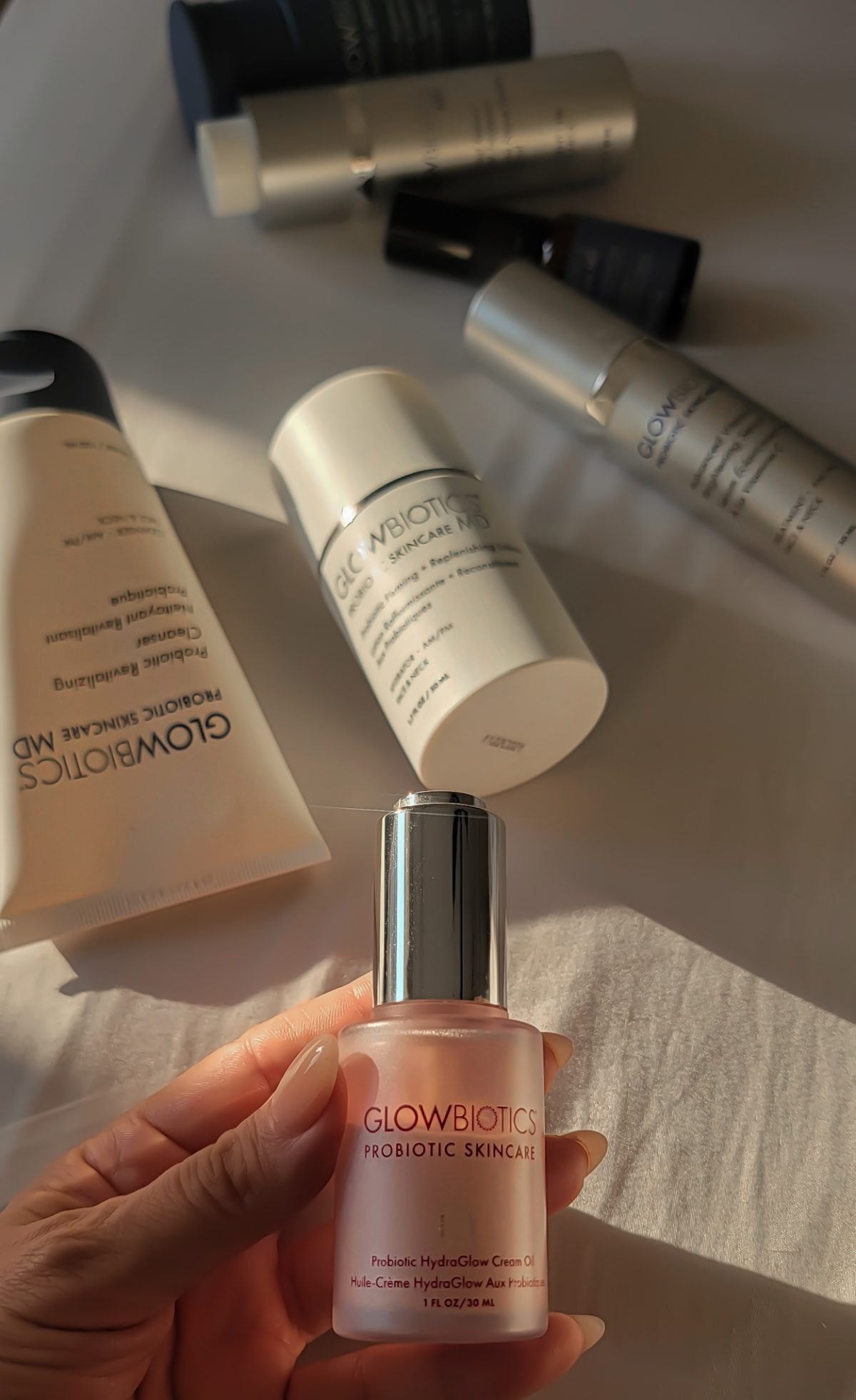 My Glowbiotics Anti-Aging Routine| Updated
If you've been following my skincare journey, you're probably aware of my long-standing love for Glowbiotics. This brand has been an important part of my routine for years, initially helping me clear up my acne and now supporting me in my anti-aging efforts. While I do have other skincare brands that I enjoy, Glowbiotics undeniably takes the spotlight in my collection—it's simply my favorite skincare brand. So, today, I wanted to share an updated version of my Glowbiotics skincare routine, as I've incorporated some new products that have become essential in my anti-aging regimen. Let's dive right in!
Anti-Aging Morning Skincare Routine
Probiotic Revitalizing Cleanser
This cleanser is hands down the best cleanser that I've ever used and have been using it for several years. It contains probiotics, which help maintain a healthy balance of bacteria on the skin. It effectively cleanses the skin, removing dirt, oil, and impurities, while also promoting a complexion. It's great for all skin types and a crowd favorite!
Shop here Use code: amber20 for 20% off
Advanced Vitamin C Brightening
Vitamin C is a powerful antioxidant that helps brighten the skin and reduce the appearance of dark spots and discoloration. It also helps protect the skin from environmental damage and boosts collagen production for a more youthful appearance. Since starting this vitamin C I have been hooked!
Shop here Use code: amber20 for 20% off
Probiotic Hydraglow Cream Oil
This cream oil combines the nourishing properties of a cream with the lightweight feel of an oil. It provides intense hydration to the skin, replenishing moisture and improving the skin's texture and elasticity. The probiotics in this product also help strengthen the skin's natural barrier, enhancing its overall health. Pro tip: mix a drop with your foundation for the ultimate glow!
Shop Glowbiotics and Use code: amber20 for 20% off
Anti-Aging Nighttime Skincare Routine
Probiotic Revitalizing Cleanser:
Yes, I use this twice a day!
Probiotic Brightening + Refining Layering Solution
This solution is formulated with probiotics and other brightening ingredients to even out the skin tone and refine its texture. It helps reduce the appearance of pores, smooths the skin's surface, and enhances overall radiance. I use it several nights a week.
Shop Here Use code: amber20 for 20% off
Advanced Retinol Renewal Treatment
This treatment contains retinol, a derivative of vitamin A known for its anti-aging properties. It helps stimulate collagen production, reduces the appearance of wrinkles and fine lines, and improves skin texture. It also promotes cell turnover, revealing smoother and more youthful-looking skin.
Shop Here Use code: amber20 for 20% off
Treatments
Probiotic Clarifying Home Peel
This at-home peel treatment utilizes probiotics and gentle exfoliating agents to remove dead skin cells, unclog pores, and promote skin renewal. It helps improve skin clarity, reduces the appearance of blemishes and hyperpigmentation, and enhances the overall radiance of the skin. Regular use can result in a smoother and more even-toned complexion. Since this is a specific protocol that needs to be followed I do this every other month or so.
Shop Here Use code: amber20 for 20% off
Probiotic Volcanic and Enzyme Polish
The Probiotic Volcanic and Enzyme Polish is a remarkable product that combines the benefits of probiotics, volcanic minerals, and enzymes to deliver a superior skincare experience. This innovative formula gently exfoliates the skin, removing impurities and dead cells, while nourishing and balancing the skin's microbiome. It leaves the skin feeling refreshed, smooth, and radiant. With its effective yet gentle formulation, the Probiotic Volcanic and Enzyme Polish is a new favorite of mine! My skin instantly looks more vibrant, clear and so smooth. I use this product a couple times a week usually in the evening.
Shop Here Use code: amber20 for 20% off
These products and treatments work together to provide a comprehensive skincare routine that addresses various concerns associated with aging. They help cleanse, nourish, hydrate, brighten, firm, and rejuvenate the skin, promoting a youthful and radiant appearance.
Click HERE to read why Glowbiotics is the best skincare brand!