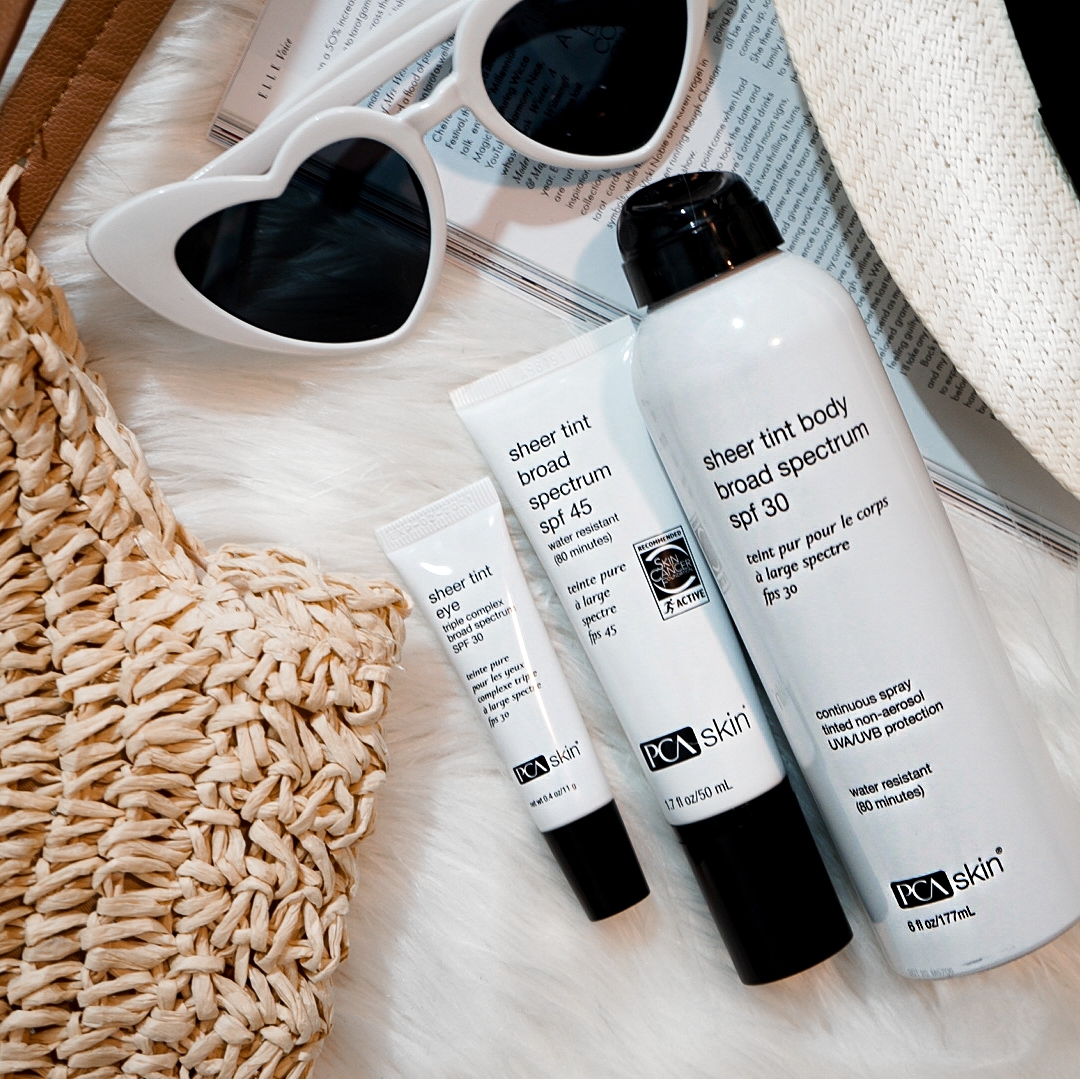 3 SPF Products You Must Have This Summer
One of the first tips I will always give you for anti-aging,  or skincare health in general, is to prioritize using SPF.  Personally, my skin has come a very long way in the last year or two and protecting it from the sun is something I take very serious. Specifically, I had a PCA Skin treatment done early on in the year which got rid of my brown spots (see that post here). As you all know, we develop brown spots when we over-expose our skin to the Sun's harmful UV rays. I can't tell you how many times someone has told me that using SPF isn't part of their morning skincare routine and it baffles me each time. Why even have a skin care routine if you're not using SPF? That's like saying that you have an exercise regimen but don't really do any sort of resistance training, don't exercise with any set frequency or length of time either. That's not a regimen at all and poor consistency generates poor results no matter what you're doing. Frankly, it's very simple, you're already washing your face every morning (I hope) and applying some sort of moisturizer and then your makeup, so why not take one more important step? Not just any step, but the step that can prevent premature aging and skin cancer! Apply SPF!
With that said, its equally important to figure out which SPF to use as not all products are created equally and a bad product can produce bad results. To help you on your way, here are 3 of my favorite SPF products:
CALM & SOOTHING: This particular sunscreen is very new to me as it's a new release from PCA Skin and so far I am loving it! This broad spectrum SPF contains bisabolol which calms, soothes, and hydrates the skin. My favorite part about this sunscreen is it has a sheer tint which can subtly hide any imperfections. Amazing, right? Like I said I haven't been using it for very long so I'll make sure to keep you guys updated.
LIGHTWEIGHT & CONCEALING: I have been using this mattifying tinted sunscreen for a few months now and it is a personal favorite! I use it every single morning as part of morning routine and I love the light sheer tint it provides without sitting in my fine lines. It's not going to conceal blemishes but it definitely creates the illusion of an even skin tone. It protects your skin from harmful UVA & AVA rays  and is great for all skin types. Bonus: it's water resistant!
OMG – SAVE YOUR EYES: Until recently, I'd never used an eye product with SPF in it for the day time. I had always just used whatever SPF I was using on my face on my eyes as well. Ugh, looking back that made no sense. Your eye area is very different from the rest of your face as we all know! The texture of the skin, the sensitivity etc. I guess I should have stopped and thought about it since every single skin care company in the world makes products that are specific to your eye area. But, you live and learn I guess. Thankfully, PCA Skin , surprise-surprise, introduced me to yet another holy grail product! Not only does it protect your eye area from harmful UVA & UVB rays but it instantly brightens as well!

That's it. If you try any of these amazing SPF products, I'd absolutely love to hear what you think so please comment below 🙂