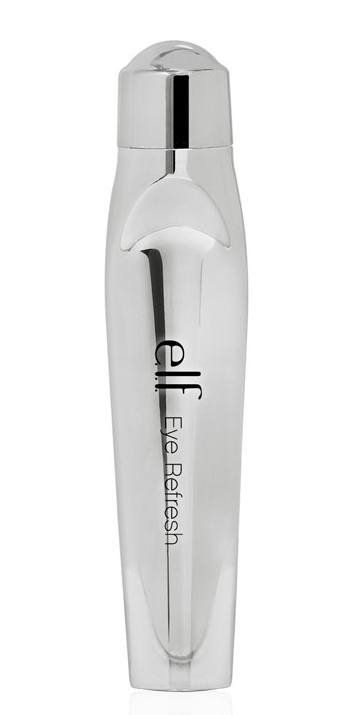 E.L.F cosmetics' Studio Eye Refresher
The E.L.F cosmetics' Studio Eye Refresher  is one my favorite Budget Beauty finds. Let me be the first to say that I know that it came out a while ago but there are just so many products that following the "hype" tends to be more of a time waste than anything else. I care more about quality products and good finds than I do hype and always will.
With that said, let me give you my breakdown. The first thing you'll notice is a cooling sensation. Cooling reduces inflammation (ever put ice on something after hurting yourself? Same idea here) which allows the product to work more effectively while giving your eye area the relief it needs from puffiness. This in turn also changes the way blood flows in the area and helps with dark circles. The product is infused with Green Tea, Cucumber, Pomegranate, Rosemary, and red grape extract which provides a great blend of antioxidants, vitamins and minerals which work together to provide you with a host of benefits your eye area sorely needs in the morning. In fact, its a bit like having a cup of coffee in the morning when you think of how the E.L.F Studio Eye Refresher helps liven you up…only not quite as good as coffee (is anything?). While your results will vary based on the severity of puffiness or circles around your eyes, you can expect a positive effect. I particularly appreciated the level of hydration that accompanied using the product.
The Studio Eye Refresher is small enough to carry in your purse, and is a perfect product to travel with. Traveling by airplane especially can be dehydrating and make you feel like you need a quick "refresher" so this little drugstore gem has found a permanent spot in my purse.
Lastly, this drugstore budget friendly products packaging is pretty sleek and appears high end. Definitely worth more than $3.00 in my opinion.