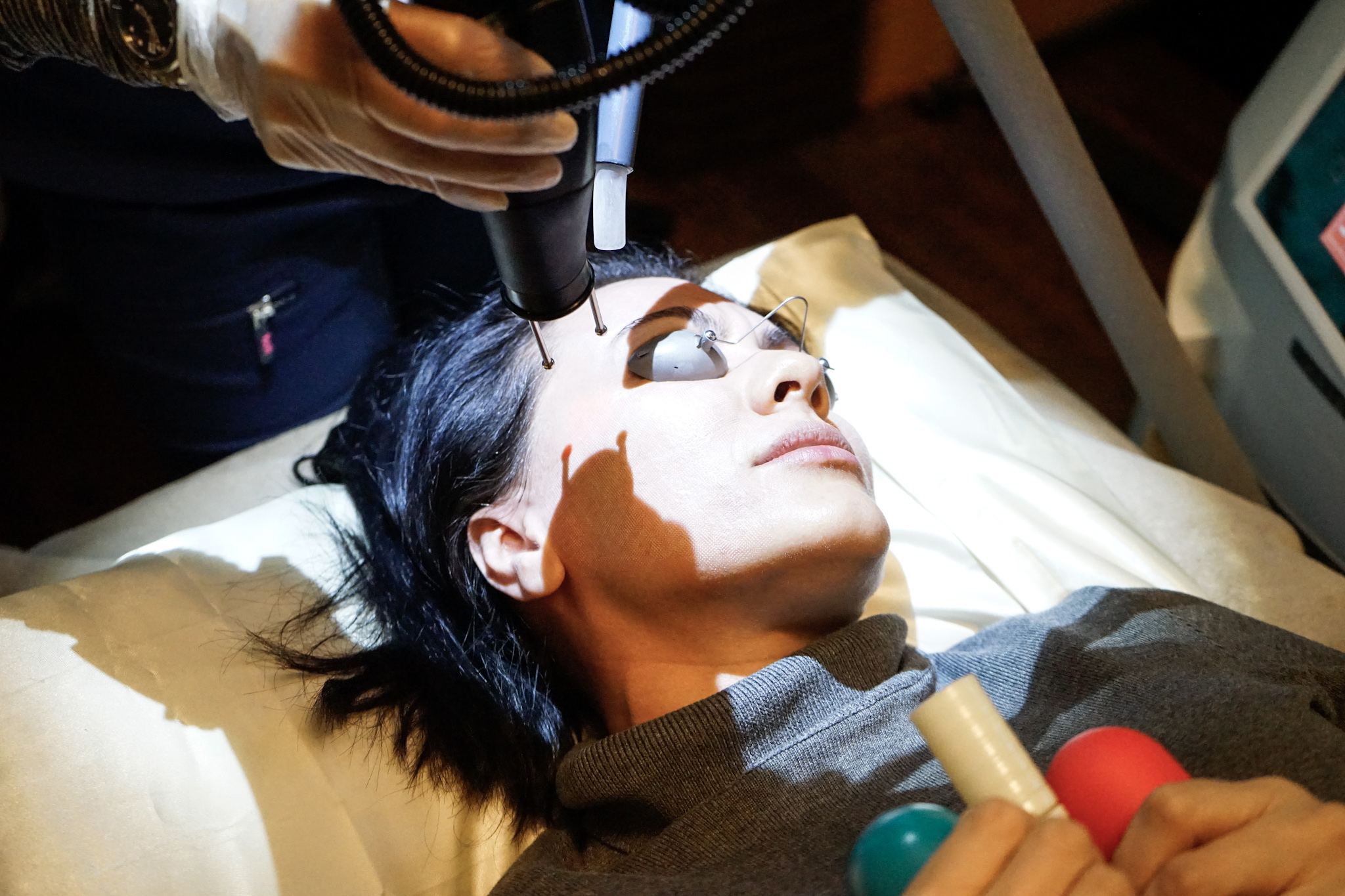 Erbium Laser At Innate Beauty In Austin Tx
You guys know that I love a good skin treatment, which in my books is one that actually works! I have made a complete skin transformation in the last 2 years but my final hurdle has been getting rid of the pitted acne scars on my cheeks. To be honest, I have felt somewhat defeated. I mean, I got rid of the acne, hyperpigmentation, brown spots, and my skin tone has become so unbelievably even that people think I'm wearing makeup when I'm actually not – so while I am grateful for all of that, it just seems like the pitted acne scars can't be beat.
When I met with Dr. Ling for an unrelated procedure (more on that in a later post) she told me she could spot treat my cheek area and I would start to notice a difference within a couple of months. I wanted to believe her but at that point I had already made peace, aka conceded defeat, to those scars. In short, I didn't get my hopes up.
Dr. Ling at Innate Beauty
Dr. Ling is a Cosmetic Dr who owns and operates Innate Beauty here in Austin, Texas. She offers many services such as lasers, skin treatments, injectables, and more. Dr. Ling provides a very high touch experience. She closely oversees every part of the process such as booking the appointment, providing the consultation, performing the treatment itself and even following up. That Dr. Ling closely involves herself with every step speaks volumes about how much she cares about the entire experience. That inspires a lot of confidence in me as a patient since I know that I'm dealing with someone who is committed to their practice and wants to ensure that patients are happy with every part of the process. Dr ling happens to be someone who I and my mom fully trust. My mom has had multiple treatments performed by Dr Ling and always raves about how wonderful she is. Another thing I love and appreciate about Innate Beauty is how quaint and intimate her office is. As mentioned earlier you're dealing with Dr. Ling throughout your entire process so it makes it less intimidating as I know a lot of cosmetic offices can be.
Erbium Laser
While visiting Dr. Ling for a completely different treatment and talking about the pitted acne scars on my cheeks she suggested the Erbium Laser Treatment. What is the Erbium Laser? The Erbium laser is a highly sought after treatment that targets signs of aging, brown spots and acne scars. It differs from CO2 lasers or other treatments in that it is not nearly as aggressive. Now, aggressive shouldn't be confused with effective. Given that the Erbium laser doesn't penetrate as deep, it is more effective for superficial issues such as pitted acne scarring. In terms of the "method of action" (I love saying that), the Erbium laser ablates (aka removes) the outer most layer of your skin. This precise action not only reveals healthy skin beneath the surface but also promotes collagen which makes it an ideal approach for superficial skin issues like acne scarring.
Post Treatment
As soon as I left Innate Beauty my skin was slightly red similar to a light sunburn-nothing too bad. The following days it was an even lighter red with light flaking. I actually didn't even notice the flaking until I put makeup on. As mentioned earlier I did only have my cheeks done so perhaps the downtime would have been a little but more dramatic had I done my whole face. Also, I felt zero post pain or burning which was quite nice.
Before and After
As mentioned above Dr. Ling focused specifically on my cheeks – which I suppose is self evident when looking at my before and after photos (see below). In terms of timelines, I started to notice a difference around 6-8 weeks after my treatment. What I noticed, as you will see, was that my pitted acne scars had become visibly smoother and my skin showed significantly less hyper-pigmentation. The photos you see are zoomed in but in terms of how this relates to everyday life, my scars were previously visible to anyone and everyone who was close enough to clearly see my face. At this point, you would need to be within arms length. I consider that a major improvement.
Left cheek before and after
Final Thoughts
Did the erbium laser work? Yes, and I'm actually very happy with my results. My cheeks are more firm, brighter, and most importantly my my pitted acne scars are no where near pronounced as they were prior the the erbium laser. I am most definitely going to see what a second treatment can do and I'll be sure to follow up with those results. If you're located in the Austin area I couldn't recommend Dr. Ling at Innate Beauty enough!