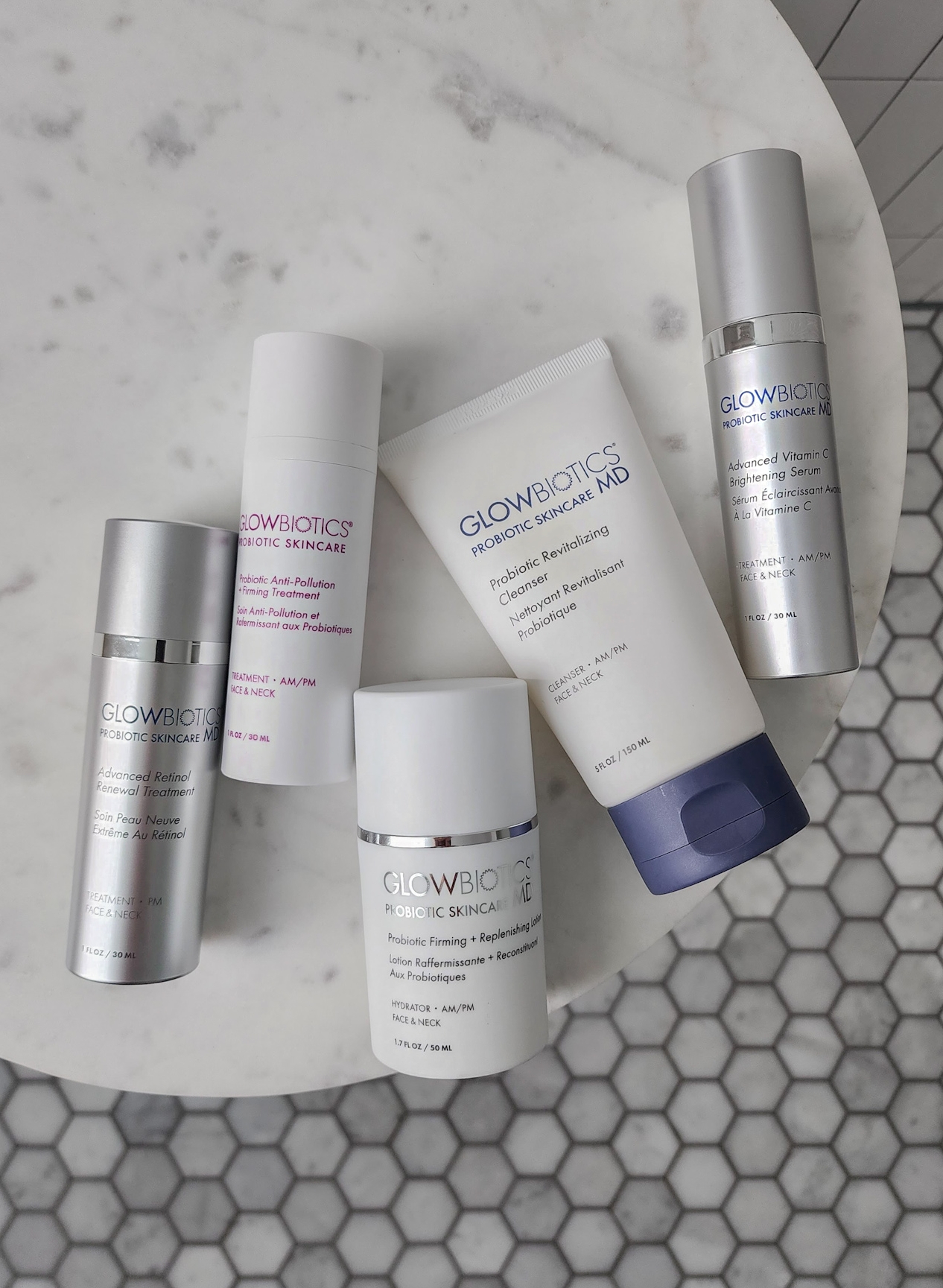 Glowbiotics Anti-Aging Skincare Regimen
Major Glowbiotics Anti-Aging skincare regimen update alert! My Glowbiotics Anti-aging regimen had a glow and you need to hear about it! Also, if you're not following me on Instagram you may want to head over there, follow me & Glowbiotics, and enter the Giveaway. This time around there will be 3 winners!! Insane, right? This excites me because I always feel for the girls who don't win. I wish everyone could win because I want everyone to see why I love this brand so much!
If you're new here let me give you a quick breakdown of why I love Glowbiotics so much. 5 years ago I set out to get rid of my acne and Glowbiotics was a part of my journey. This was the first regimen that I ever used that didn't break me out. It actually did the opposite of breaking me out, it cleared up my acne! See the acne regimen that I used HERE. Now that I am free and clear of acne Glowbiotics is helping me combat the signs of aging. Now let's get into what's changed in my Glowbiotics anti-aging skincare regimen.
I'll start by discussing the product I've added to my Glowbiotics Anti-aging Skincare regimen, The Probiotic Anti-Pollution + Firming Treatment. It creates a web-like matrix to help shelter the skin against pollution, dirt, and eco-factors that may contribute to signs of aging. It contains antioxidants, amino acids, and natural lipids to help improve dull skin while also firming. It's great for all skin types and I use it twice daily. It applies and absorbs beautifully and wears great under makeup. It was exactly what my anti-aging skincare regimen was missing.
Now let's get into the products that I've been using for years and will probably use for the rest of my life….
This is my number one, ride or die, holy grail, end all be all cleanser! I've tried to use other cleansers but I always come back to this one. It's gentle, great for all skin types, and protects & repairs the skin's barrier. I always say that if you're interested in trying Glowbiotics the probiotic revitalizing cleanser is a great product to start with. I have recommended it to so many people and have heard nothing but amazing feedback.
Just like the probiotic revitalizing cleanser, I've tried others but always come back to this one. It's, by far, my favorite moisturizer. It's so hydrating without being to greasy or thick. Wears beautifully under makeup and on it's own. It contains peptides, fatty acids, and a comprehensive blend of probiotics. It will help with fine lines, wrinkles, and skin texture. I can attest to all of these claims because I've been using it for 3+ years and I'm loving where my skin is at.
Another tried and true. Again, a product I always come back to. I've been using this retinol for years and haven't need fillers so I think it speaks for itself lol! I have recommended this retinol to so many friends and they're also hooked! It stimulates cell turnover without inflammation typically experience with other retinols. It helps fade unwanted pigmentation, smooth out fine lines and wrinkles and resurfaces your skin. It's amazing!
This is one of the Glowbiotics products that's newer to me, and I am legit obsessed! It brightened my skin as well as faded brown spots! I'll be using it for life! I'm not sure what has taken me so long to try it but I'm so glad that I added it to my regimen. It's a strong antioxidant which will protect your skin from the environmental toxins. It's soothing and great for all skin types.
What are your thoughts on my Glowbiotics Anti-Aging skincare regimen? Let me know below.