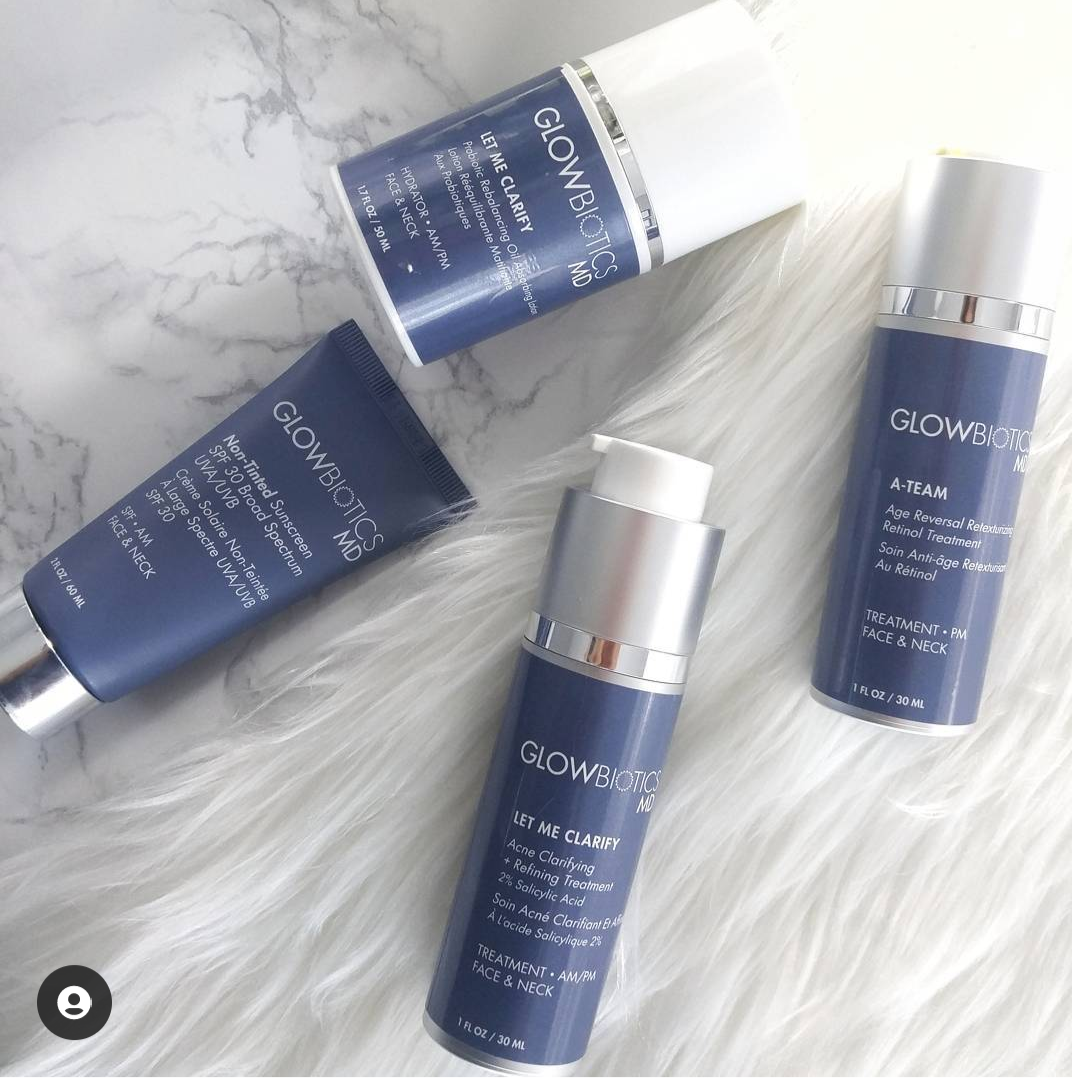 The Acne Skincare Routine you need to try
My Acne Skincare Routine is long overdue! Like, years over due. Maybe it traumatized me to the point where I just didn't want to discuss it. Whatever the case is, I have shared most of the treatments (click HERE to read) with you but never my acne skincare care routine that helped my miraculous transformation take place. In this post I am sharing that, exact, acne skin care routine that I used..
Before we get started, I want you to know that this post is not sponsored. Through my skincare journey, I had no relationship with the brand that I am mentioning, other than being a regular customer who was desperately in need of results. In fact, the thumbnail for this post is a picture that I took and posted to my Instagram on my own way back in 2017!
Click HERE to learn how I got rid of the last of my acne scars
The Acne Struggle
My acne struggle lasted around 10 years which felt like 100. I tried just about everything to get rid of it; anti-biotics, prescription topical creams, facials, peels and just about every drugstore product marketed to acne. After years of defeat and disappointment, I came to the conclusion that having acne was something I was going to live with. Then In 2017 a local spa reached out to me to collaborate. They wanted to treat my acne and in exchange for an honest review of their services. I expected, at best, to enjoy the treatments but I did not think that they would literally change my life. Robin, the esthetician who treated me customized a plan to combat the acne. The one thing that Robin stressed to me was how important using the proper skincare was. She then sent me home with an entire acne skin care regimen.
It was my first time using an entire, medical grade skincare regimen. At that point I had only tried a product or two from different medical grade companies but never an entire regimen. I had always heard that medical grade skincare was far better than drugstore skincare. I finally believed it once I started to see my skin transform.
Glowbiotics
Glowbiotics is the game changing brand that I love to this day (I currently use Glowbiotics to keep my skin healthy and combat signs of aging). Glowbiotics it's not only medical grade but also committed to product safety. That means they take extra care in choosing ingredients so as to avoid those that are not well researched or may be harmful. I know that sounds like a normal step but you'd be surprised at how many brands simply use whatever is legal and cost effective. Moreover, Glowbiotics uses a pre and probiotic technology that nourishes your skin at a microscopic level. Why do I highlight this technology? Because clearing up the acne goes further than simply cleaning and address bacteria. Sometimes you have to rebuild skin tissue at a much deeper level and restore proper health before simply cleaning it and looking for an aesthetic change.

In terms of timelines, I used the glow biotics acne regimen for an entire year.
The Acne Skincare Routine
As you may notice the thumbnail I am using for this post may look different from the products listed below. Glowbiotics rebranded some of their products through out the years. The products mentioned may have different packaging but contain the same effective ingredients that I firmly stand by!
Use code Amber20 for 20% off
What a great cleanser! When I think acne cleansers I think dry irritated skin. WRONG! None of Glowbiotics acne products are harsh. They are all nourishing and are formulated to nourish your skin from the inside out using their pre and probiotic technology.
I use this product even though I no longer struggle with acne. It hydrates as well as soothes inflamed skin. I use it nightly for added hydration and skin tightening benefits. It's also great to use after I do at home microneedling.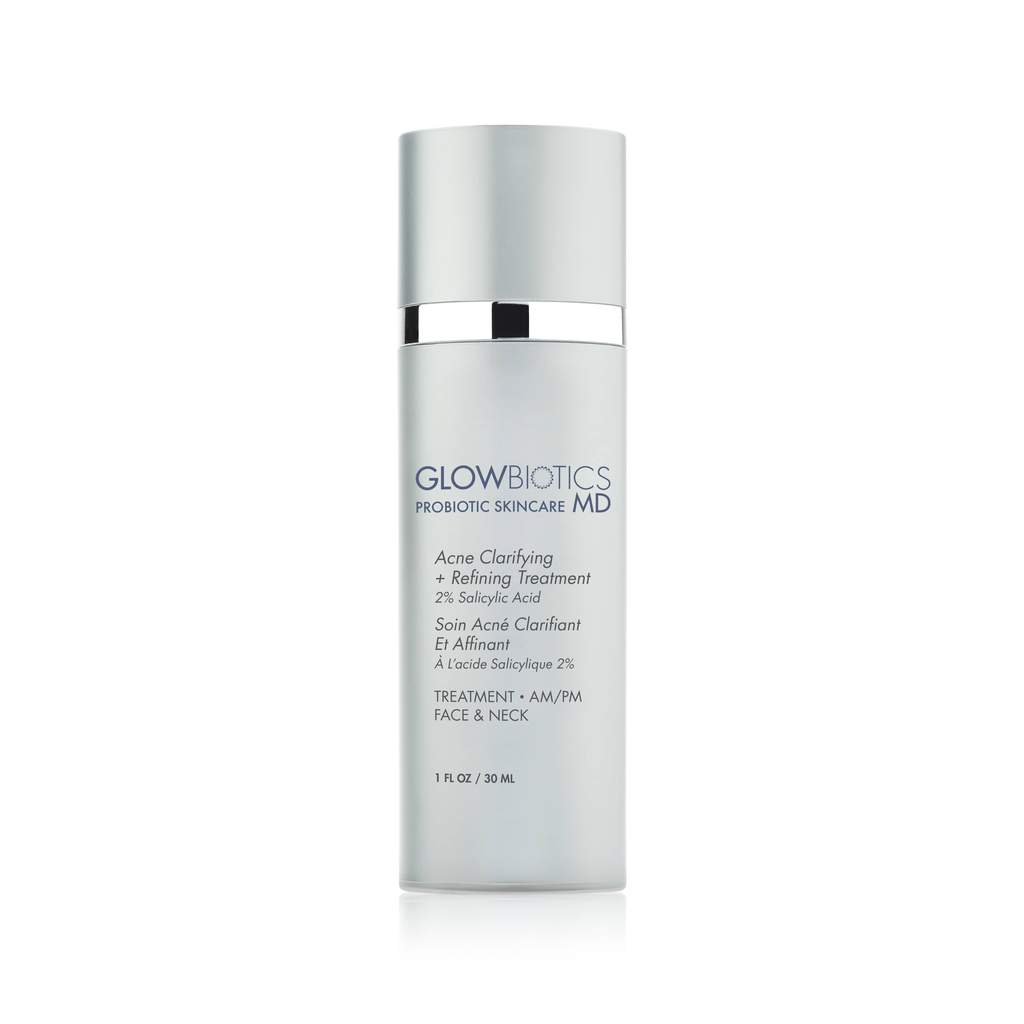 This is such a cool treatment! It helps prevent future breakouts and eases inflammation while minimizing pores. I absolutely loved the feel of this serum and swear this was an important product in my acne skincare routine!
This is such a great moisturizer! It helps soothe inflamed skin while absorbing excess oil. It contains probiotics, antimicrobial and anti-inflammatory active ingredients help to clear bacteria and calm irritation, redness, itchiness, and inflammation without dangerous parabens, sulfates, or other cancer-causing agents.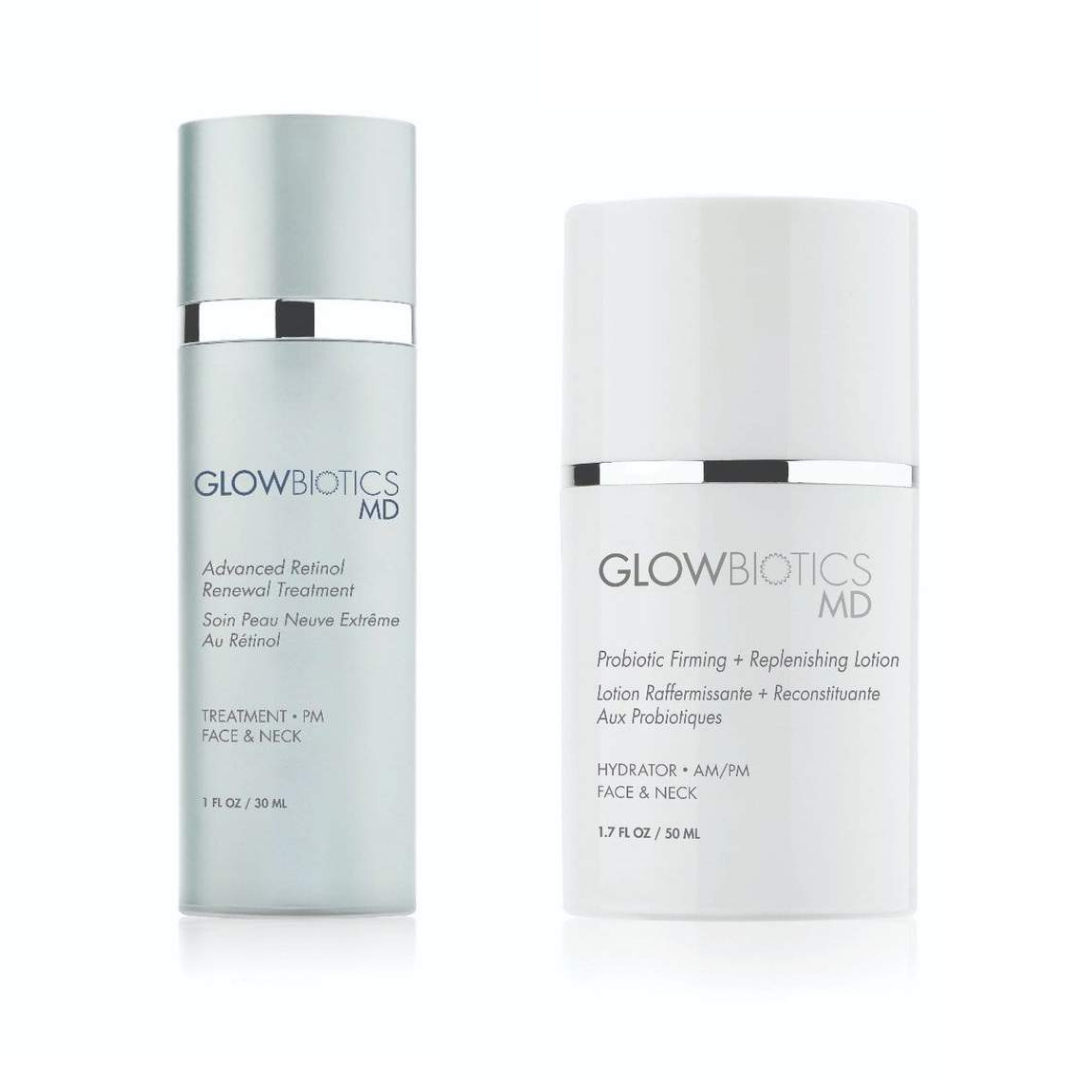 Both products offers their own amazing benefits but as a duo they work as a team to combat acne. I use both of these products but not to combat acne as they're also great for ant-aging. I can't get enough of the probiotic firming + replenishing lotion. If you're not new here then you know that this is my favorite moisturizer EVER!
In sharing my acne skincare routine I hope that I can help guide anyone looking to clear up their acne. I know trying products to clear up your acne can get beyond frustrating! Let me know if you try any of these products.
Use code Amber20 for 20% off
For other Glowbiotics Products that I love and use click HERE