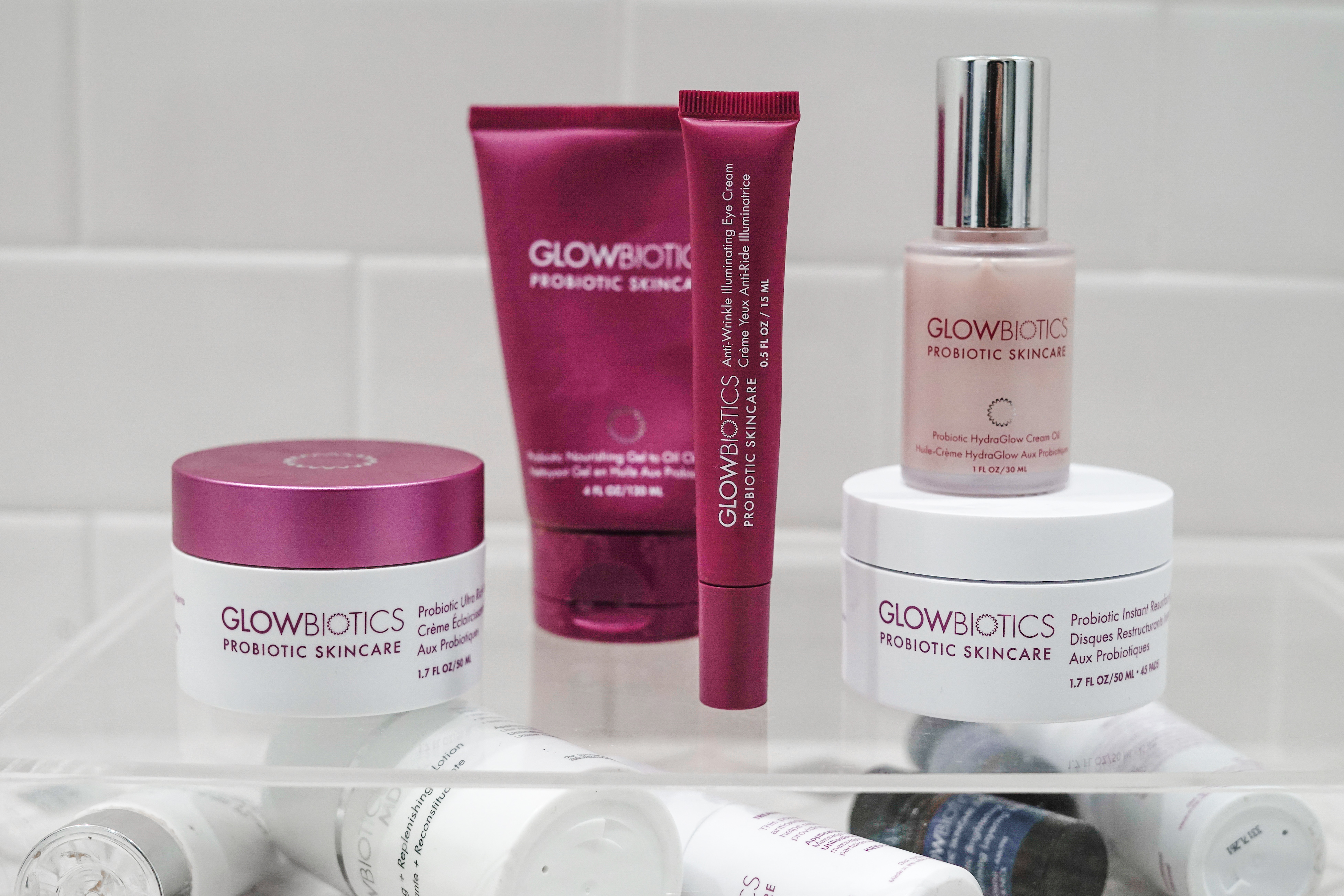 Glowbiotics Favorites + Giveaway
Girls, you know that I love Glowbiotics! I've said it before but I'll say it again, I was a fan of their skincare long before they knew who I was and Glowbiotics played a major role in my skin transformation. The short recap is that the med spa I was working with at the time sent me home with an entire Glowbiotics regimen to compliment the treatments they were performing on me. The goal was to combat the persistent acne that I had been struggling with for 10+ years as well as hyperpigmentation, pitted acne scars, fine lines and brown spots. Glowbiotics was not only the first skincare line to not irritate my already sensitive and inflamed skin but I began seeing miraculous results. Fast forward, 5 years later and I now have zero issues with acne or inflamed skin. However, my new task is doing everything possible to slow down and reverse the signs of aging. Another couple of reasons that I love Glowbiotics are that they are 100% committed to being clean, safe and effective; they never formulate products with parabens, phthalates, sulfates, artificial dyes, mineral oils, toxic or hormone-disrupting ingredients. Also, you are getting phenomenal products that can compete with the best of them but are extremely well priced – particularly after you apply my codes which knock the price down even further!
Code:Amber20 Saves you 20%
Glowbiotics has been there with me through many phases of my skin and I am so excited to be partnering with them in a giveaway! Make sure you're following me on Instagram as the giveaway will take place Tuesday December 1st at 8pm CST.
Here are just a few of their products that I'm currently loving.
This oil cleanser is perfection! It is a "probiotic gel to oil cleanser" that, as you might guess, comes out as a gel and turns to an oil. It has the most beautiful consistency and feels perfect when applied. It removes all of your makeup so well and leaves your skin feeling super hydrated and glowing. This is the cleanser that I use to remove all of the makeup, dirt and sebum collected through the day before I follow up with Glowbiotics Probiotic Revitalizing Cleanser.
This is what hydrated, glowing skin dreams are made of! In fact, a friend that I introduced to Glowbiotics told me that I absolutely had to try this cream and I'm so glad that I did.  This cream was created to balance, restore and improve over all clarity. I look forward to using this cream twice a day as it leaves my skin so incredibly moisturized and luminous!
I will be using this eye cream for life! This eye cream provides peptides and lipids which leaves my eyes looking bright and moisturized all day. It helps with dark circles and lays beautifully under makeup!
This product isn't just one of my favorite Glowbiotics products it's one of my favorite products EVER! I've never used anything like it. It contains a powerful antioxidant blend as well as light reflecting minerals to fight the visible signs of aging while leaving your skin glowing and moisturized. Along with many other Glowbiotics products it also promotes a healthy skin barrier. I use the Probiotic Hydraglow Cream oil on it's own, under makeup (so beautiful), or add a drop or two and mix in it with my Probiotic Ultra Rich Brightening Cream.
These probiotic resurfacing pads  are my favorite way to exfoliate the dead skin away and soften fine lines and wrinkles. Prior to using these pads I was using a 10% lactic acid serum that I found to be quite messy. The pads contain lactic acid and are a more convenient, less messy, way to exfoliate. I use them nightly but if you're new to lactic acid I would definitely recommend starting with a couple of nights a week.
Don't forget to use my code: Amber20 for 20% off.
Comment below and let me know which products you love!
Click here to see other Glowbiotics products that I love!