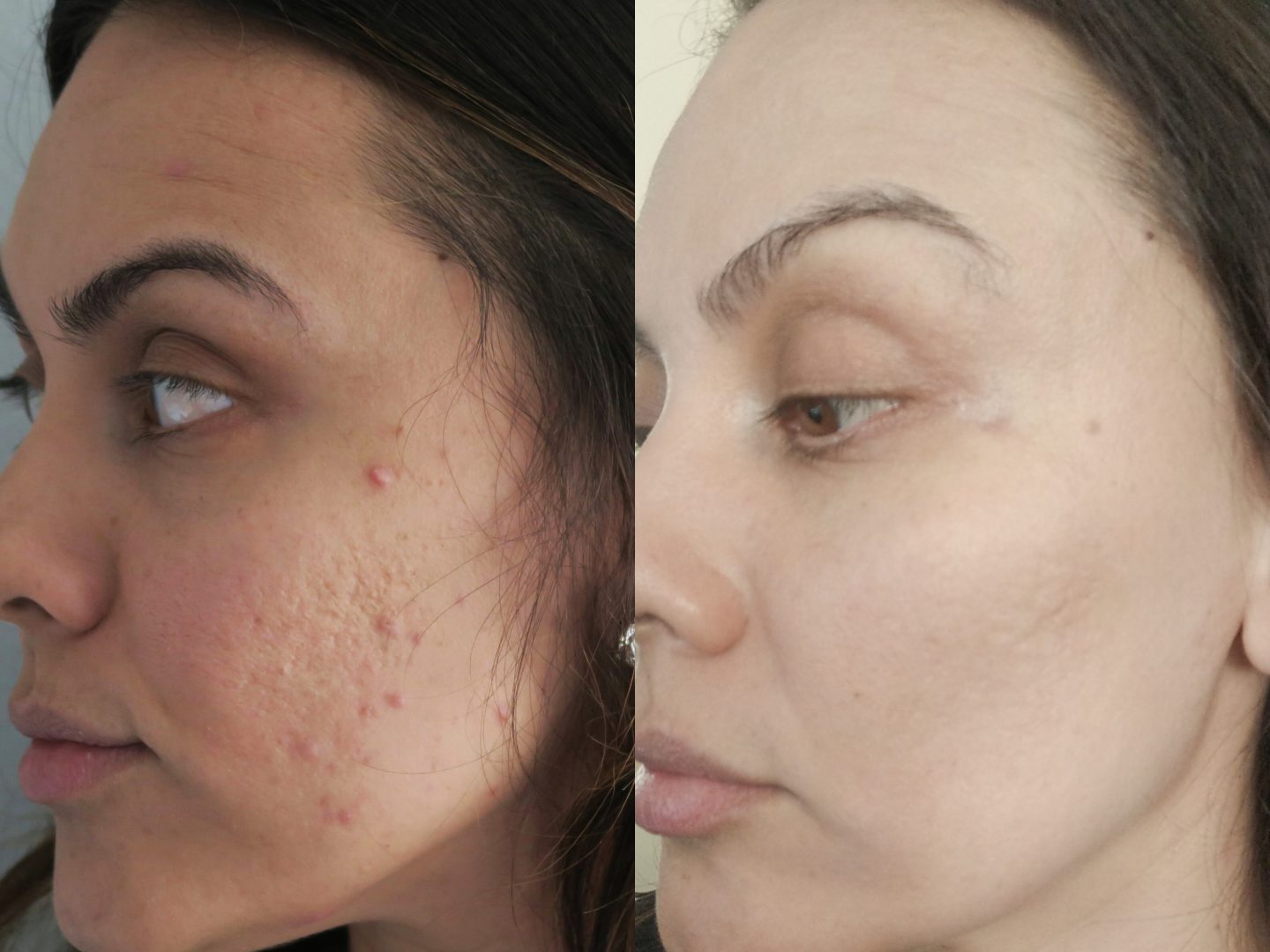 How I Got Rid Of My Acne Scars From Home
How I got rid of acne scars from home was a process but so worth it! Dealing with Acne was a struggle! But, once the acne was gone, dealing with the hyperpigmentation and pitted acne scars was even more of a struggle. Throughout the process, I constantly felt defeated. There were times when the scarring was more stubborn than the acne. I wanted to, at least, see progress at regular intervals but it doesn't work that way. There are patches where you need to stick to the process and won't see the same level of improvements you may have seen in weeks prior. Patience and consistency were and are the key. I also learned that it isn't something that needs to cost  a lot of money and I personally found that at-home treatments were both more convenient are far more affordable! I've done updates throughout the years on my skins progress but in this post, I am doing an update from the very beginning to the day of publishing this post!
My journey started with doing professional treatments. The initial plan of action was to get rid of the acne. To do so, I worked with a medical spa in Austin. I was treated with the Skin Pen (see post here) combined with PCA Skin (click here to see the same PCA Skin treatment that I did with a different medical center years later) and Glowbiotics treatments. As the acne was subsiding, so were the pitted acne scars and hyperpigmentation. Once the collaborations were over I was on my own and didn't want to shell out several hundred dollars a month so here are the steps I took to get my skin to where it is now with practically zero hyperpigmentation and only the faintest pitted scars. Important to note, I've done several different peels, lasers, micro-needling treatments etc. through the years but in between treatments, I may have gained new scars and brown spots. It wasn't until this last year that I officially got rid of them all and HERE IS HOW I DID IT:
LED Light Therapy
This is by far my most highly recommended treatment that helped me get rid of my acne scars from home! LED light therapy is new to my regimen but it has BLOWN ME AWAY in the short time I've been using it. TRUST ME, you want to view my post on this LED Face Mask CLICK HERE. I've had this done in professional settings at the end of a skin treatment but wondered how effective it could be if I had one of my own. So, naturally, I did my research and found the LED Face Mask. I use it several times a week. It's so easy, convenient and amazingly effective. Better yet, it's hand free so you literally just hang out or do whatever you normally would while improving your skin in multiple different ways. LOVE.
I used the LED Face Mask on the red and amber settings 5 days a week. The red LED light is great for stimulating collagen production and cell turnover which helped with the pitted acne scars as well as firming my skin. The amber LED light is known for its healing & soothing properties as well as fading discoloration, promoting lymphatic drainage, and skin brightening.
P.S It happens to be the same exact model (but half the price) as the the one Kourtney Kardashian advertises!
The Lux Light/ Lux Beauty Tools
For 10% off your Lux Light use code: Amberxo10
Proper Skincare
This is key regardless of your skincare goals! Whether you are doing at-home or professional treatments you still have to work on your skin in between those treatments. However, you can't jut pick random products and hope it all works out for the best. It doesn't work that way. In the same way that specific medicines treat specific conditions – specific skin care products do likewise. These are the ones that you need to use and why: Skincare played a huge factor in how I got rid of my acne scars at home.
Vitamin C
This is essential for fading your acne scars and brown spots but it's also a powerful in anti-aging serum. Vitamin C is a powerful antioxidant which protects your skin from free radicals and has been shown to repair your skin cells. It's also treats scars by increasing the synthesis of collagen, a protein response for your skins structure. So not only is it important for scarring but also for anti-aging. I apply Vitamin C every morning.
Retinol
This is a MUST for me when I was fighting acne, acne scars and now as I fight (hard) aging. Retinol works in several ways. It works on the skin's outermost layer. and exfoliates to remove dirt, dead skin and oil from the pores which can in turn prevent breakouts. It also can work under your skin! Retinol also works by stimulating collagen production and new cell turn over thus helping diminish scars. I use retinol every single night!
Rodan + Fields /Redefine Renewing Intensive Serum
Aha's & Bha's
These are superficial chemical peels and depending on which product you chose, can be used daily. Aha's and Bha's are going to exfoliate your skin and help even out your over all skin tone.
At-Home Dermarolling
This is one of the most cost-effective treatments you can do at home. I have used everything from a .25mm needle to a 1.0 mm needle. Dermarolling makes micro tears in the skin which, in turn, forces the skin to heal itself by producing collagen and new skin. I use the .25mm derma roller nightly as the needles aren't long enough to cause any significant micro tears into the skin and therefore can be used daily. This length increases product penetration by up to 70%. The 1mm I used every 4\-6 weeks as these needles are much longer and do cause micro tears which require recovery (don't worry, no one can really tell by looking at you). Note: I don't use my .25mm derma roller on the same week as using the 1mm. These were the first home skin tools that I ever used but because they were so effective, I have continued to use them. They also inspired me to continue searching for more, great, at home options.
Personal Recommendations: The .25mm Derma Roller/ Rodan + Fields Derma Roller Pack of .25mm & .50mm and the .1mm Derma Roller/Amazon
At-Home Electric Micro Needling
This is the same as derma-rolling but it's an electric pen. I know it sounds scary. I personally wasn't afraid to try it because I was used to the Skin Pen and had read a lot of reviews of people using an electric microneedling device from home. Through research and experience, I have found that they are generally very safe to use as long as you are using them correctly. Of course, I use numbing cream prior to starting and I never reuse the same needle head. I did find faster results from using an electric pen as opposed to a .50mm or a 1mm derma roller. So this has replaced those longer needles, however, I do continue to use my .25mm derma roller for product penetration.
Will be trying any of these ways that got rid of my acne scars from home?
Click HERE to read about the treatment I did to get rid of my acne!