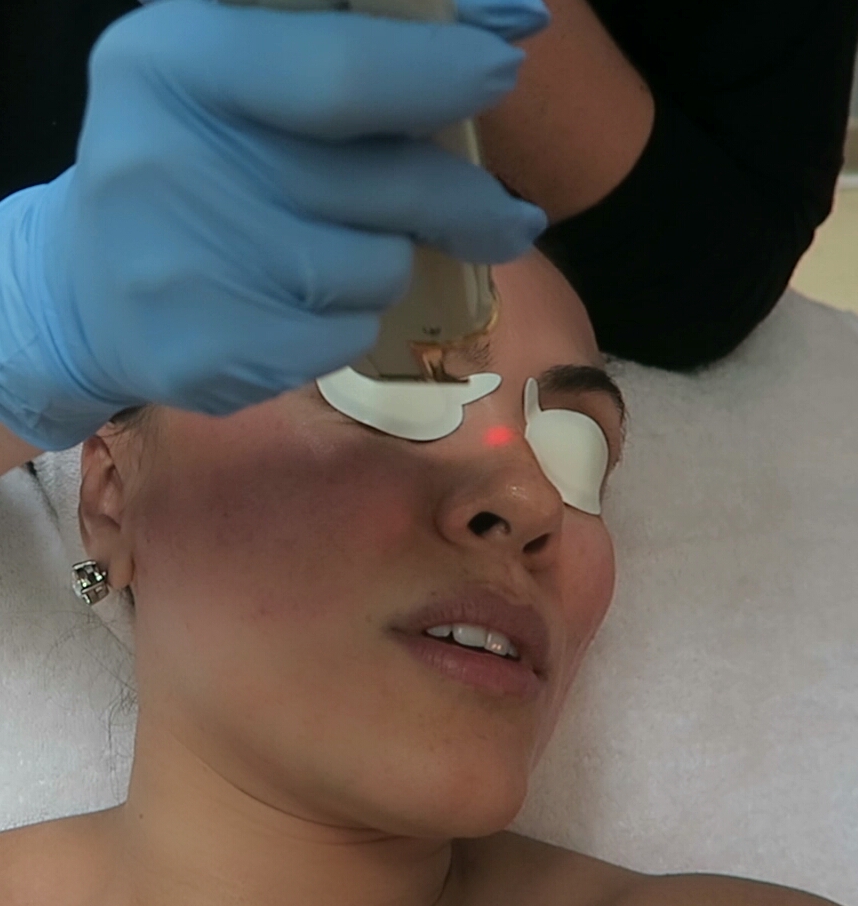 LASER GENESIS | SAGE AND SWEETGRASS
When I received the invitation, from Dr. Sholar, to come back to Sage and Sweetgrass, it was a no brainer for me. If you've been following and read many of my other posts, you'll know exactly why. If not, the short story is that we've already established that she is on the cutting edge of her profession and has a track record of choosing the best for her spa's. Plus I always enjoy being able to get an hour of time in with Robin. Double win! Now, before taking this trip back to my favorite spa in Austin, I did some of my own research on the Laser Genesis as I truly believe this helps me create better blog posts where I can explain in detail how things work, what I expected and so on. In my research, it also stood out to me that Kyndal Jenner uses this exact laser and whether you're a fan of her's or not, I'm sure we can all agree that she has all of the resources needed to pay for any procedure on the planet and her skin really does look amazing as far as I can see! In short, sign me up! I should also note some of the technical details that I learned about the Genesis as well. It is a laser skincare treatment (I'm sure you already get that part) and this particular laser promotes collagen production while helping eliminate acne, improving skin texture and correcting hyperpigmentation. Said differently, its like a skin pen on steroids. Good steroids too, not the bad stuff lol
What Is The Laser Genesis
As taken from Sage And Sweetgrass Spa
"Laser Genesis Skin Rejuvenation treatment utilizes advanced science to promote smooth, evenly toned skin in both women and men. The Laser Genesis system penetrates deep into the dermal (second layer of skin) tissue where collagen (fibrous proteins) is produced to stimulate an increase in new collagen formation. Laser Genesis treatment helps to reduce the appearance of scars, uneven facial textures, minor wrinkles and enlarged pores.
Who Is a Candidate
Anyone interested in addressing acne scarring, wrinkles, rosacea, uneven texture or collagen production without the use of an invasive treatment.
Post Treatment Thoughts and Recap
I was of course, again, very pleased by my results. My skin was so incredibly smooth, clear, vibrant and brightened. I left the spa knowing I was already hooked and will definitely be purchasing an entire package. I should also mention that there was absolutely no down time. In fact, I quickly faced timed a friend upon leaving and outside of commenting on how nice my skin looked, she had no idea that I just had something done. In fact, she didn't even believe me when I told her. That's not always the case as some skin treatments leave you red for a little while (which isn't a big deal but I didn't mind having 0 downtime or redness). Again, this is absolutely something that I'll be doing again in the future and like I always say, repeating something is the best compliment you can give.
Check out my other posts on other procedures I've received at Serenity Creek and Sage and Sweetgrass
Make sure to follow Sage and Sweetgrass and Dr. Sholar a follow on Instagram!
What are your thoughts on the Laser Genesis? Is it something you think you'll try? Let me know in the comments below:)