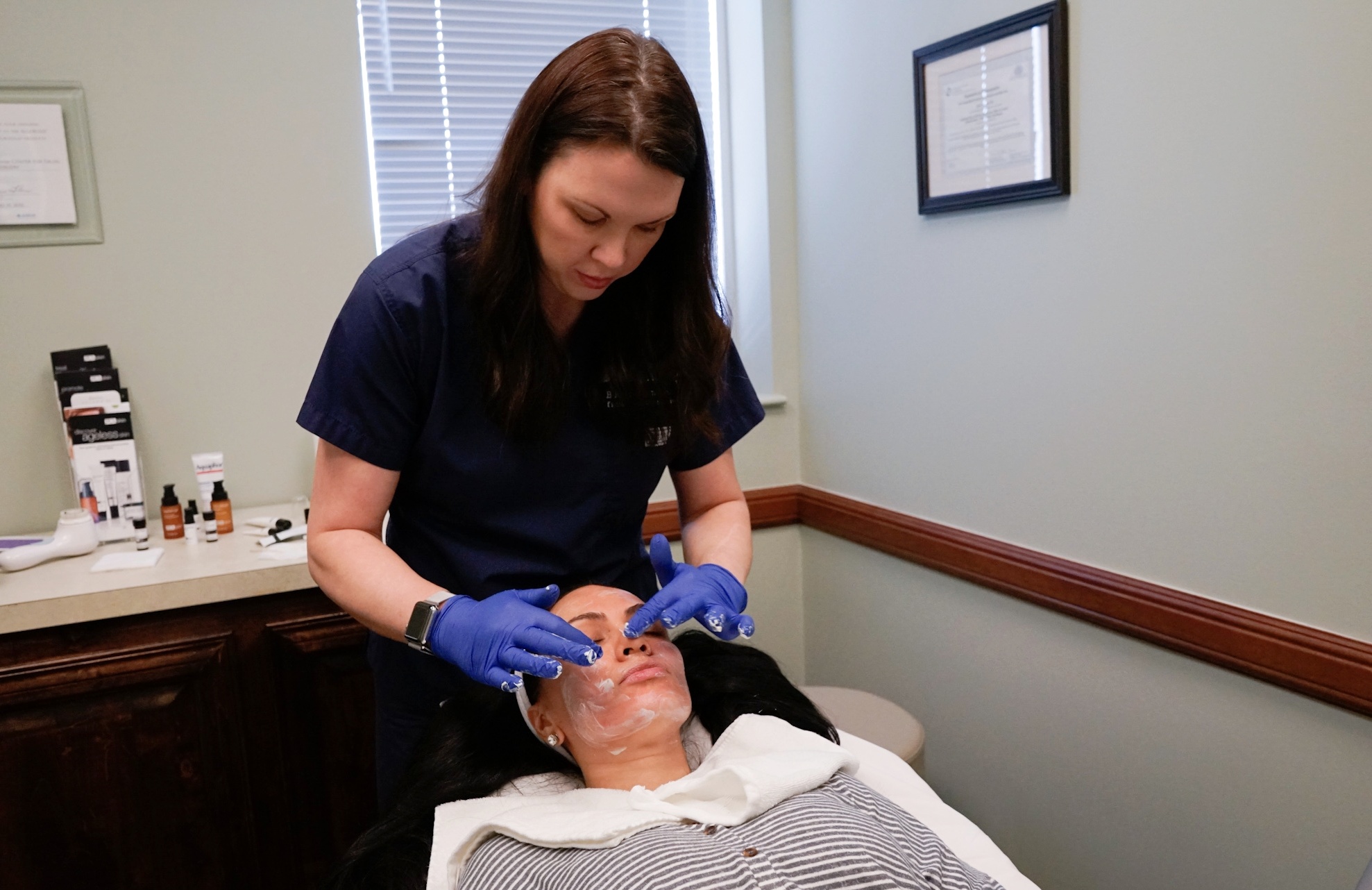 PCA Skin Peel at The Buckingham Center in Austin Tx
Im so excited to share with you the most recent skin treatment I had done at The Buckingham Center located here in Austin, TX. You most likely know that I recently got to visit the PCA Skin Headquarters ( See the vlog here) where I not only got to learn about every single one of their products but I also learned a great deal about all of their treatments and even had the 4% retinol peel done. So when the opportunity to have their 6% retinol peel done at The Buckingham Center here in Austin, Texas – I was extremely excited!
Arriving at The Buckingham Center
The Buckingham Center is a very nice practice. The staff is very friendly, the waiting room is surrounded by (tinted) floor to ceiling windows so as to let in natural light, there are nice amenities such as beverages, magazines, TV's, comfortable seating and more. Everything you need to comfortably wait a few moments before your appointment begins. The staff is incredibly friendly and welcoming!
The PCA Skin Treatment
Now! On to the PCA Skin treatment I received! Laura customized the treatment based off of my skincare needs which were; Hyperpigmentation, uneven texture, and fine lines. Before we get into the treatment, there's something I encourage everyone to pay close attention to. You'll notice that there's a very specific sequence here with PCA Skin's protocols and it's exactly what a highly trained group like the team at The Buckingham Center is capable of applying for you. Each step is exactly where it needs to be with prepping the skin, applying specific formulas to change the skin, then others to strengthen the skin, protect the skin etc. This isn't one of those "try things and see what works" skin regimens or treatments. Everything from the products to the exact order of application has been thoroughly researched and backed by science.
To begin, Laura cleansed my skin using The Facial Wash. This is important as it removes and micro debris, excess oils or residue that may be sitting atop of your skin and might otherwise block the treatment or lower its efficiency. She then applied the Hydrating Toner as this further prepared my skin for the peel to come. Laura took the time to ensure that the toner set in then moved on to the Sensi Peel where one, initial layer, was applied. After thoroughly applying the Sensi peel, Laura quickly observed my skin to ensure that it was perfectly distributed and everything was looking good then spot treated with PCA Peel with Hydroquinone which is used to lighten dark spots. Once that set, the Pigment Gel was applied – this works in tandem with the peels to promote a healthy and balanced complexion. Next up was the application of ExLinea which is a peptide spot treatment serum minimizes the appearance of expression lines and hydrates, smooths and firms aging skin – quick note here, I absolutely love Exlinea, had to say it. After that had set, Laura applied PCA Skin's Total Strength Serum which, as its name suggests, is a peptide formulated to strengthen and nourish your skin among other things. C&E Strength Max, another fantastic product from PCA Skin, was applied immediately after. Another favorite, The Peptide Lip Therapy, came in next and then the 6% Retinol Booster was applied – I'd been waiting for this! Laura ensured to massage it in then allow it to set before applying the ever so important SPF perfecting protection (always wear your SPF!) and lastly, PCA's Rebalance Facial Cream Done!
The series of peels I received at the Buckingham Center was quite different from any peel I have ever received. With most peels, it's applied then you sit in pain for a few minutes then have it removed. With the treatment I received you ideally don't wash it off until the next day.
I was sent home with The Post-Procedure Solution Treatment Set which includes great products to apply for the week following your treatment that will assist in your skins healing process. If you book a PCA Skin peel at The Buckingham Center you'll also receive this kit!
Post Peel
Leaving the Buckingham center my face looked so hydrated and I had a beautiful glow. I had zero redness or anything that would look like I just had something done. I was actually in awe of my skin and didn't want to rinse off any of the products. As in ever. I eventually did of course but I didn't want to lol. Everyone's experience will differ, but for me, I didn't feel any itching or burning. As mentioned above its supposed to be left on for at least 6 hours if not overnight. As you may have guessed, I left it on overnight. Important to note; not everyone will peel but that doesn't mean the peel was any less effective. The first couple of days my skin looked so hydrated and beautiful. Once the light peeling and flaking began on the 3rd day my skin became dry. I attended an event 6 days later and by then my skin had a bright beautiful glow.
Recovery
Results
I could not be happier with the results! Overall, my skin is brighter, my skin tone is more even and I notice that some of my brown spots are completely gone while others have lightened. Perhaps even more impressive is the fact that I have less texture in my cheeks. My cheeks have always had some, small, leftover pitted acne scars which have a tendency of making me feel self-conscious. To see such a difference in my skin texture in a matter of 2 weeks makes me downright giddy! This is exactly what a girl hopes for when getting a professional skin treatment done and to be able to say that I got everything I hoped for and then some is about the best compliment that I can pay to PCA Skin and The Buckingham Center.
I couldn't recommend The Buckingham Center enough! Laura is such a sweet person who instantly makes you feel comfortable and is incredibly knowledgable in her field. This definitely won't be last treatment at The Buckingham Center or my last PCA Skin treatment. I had such incredible results from this peel I can't wait to see what a second will do!
Lastly, Don't forget to book your PCA Skin peel at The Buckingham Center to receive your full-size bottle of retinol