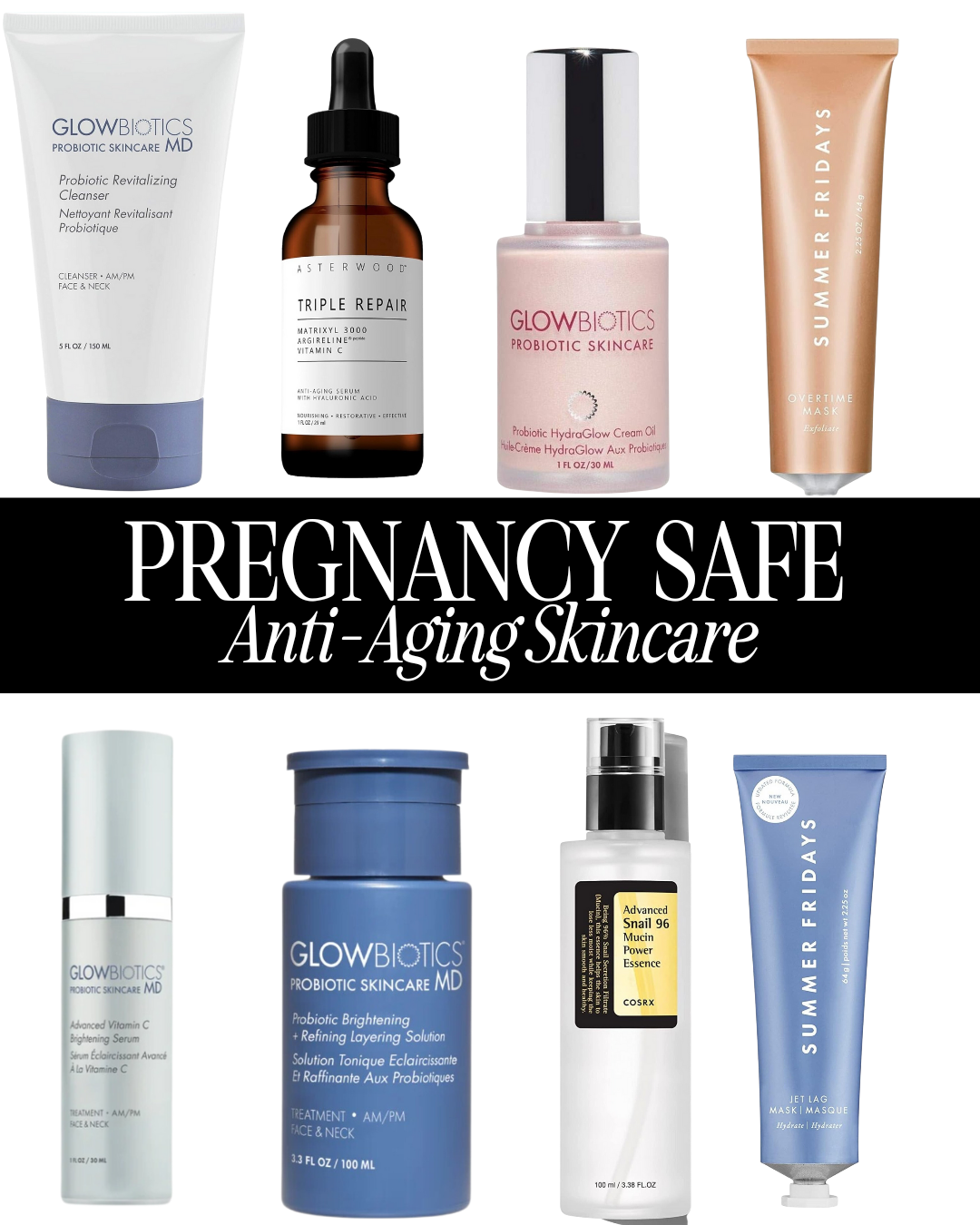 Pregnancy Safe Anti-Aging Skincare
This post is about Pregnancy Safe Anti-Aging Skincare.
Sitting down to pour my thoughts about this pregnancy journey onto the screen feels absolutely wild! Honestly, most days, it still hits me like a surprise plot twist, and I can't help but chuckle about it. When Peter and I decided to start trying for a baby, I knew that there would be some adjustments and shifts once we got the news, and I was ready to embrace them.
One of the very first things I did was ditch any skincare products that were a no-no during pregnancy and replaced them with ones that were safe for my baby. I have to confess; it wasn't a walk in the park. I mean, saying goodbye to my trusty retinol after using it for years? That was a tough pill to swallow. And the fact that I had to bid adieu to my LED face mask and my beloved microneedling routine? Well, that stung a bit too.
But, you know what? I remembered the beautiful reason behind these changes, and that's what kept me going. Plus, shopping for and experimenting with new pregnancy-safe skincare products turned out to be surprisingly enjoyable. It was like a mini adventure in itself!
Click HERE to read Understanding Your Skin Type.
Pregnancy Safe Anti-Aging Skincare
Not Safe Pregnancy Ingredients
I've been all about the anti-aging game, so I've stuck to my usual skincare routine: cleansing, toning, treating, moisturizing, and shielding my skin. But guess what? I quickly realized I had to ditch a few things, like:
Retin-A, Retinol, and Retinyl Palmitate.
Salicylic Acid.
Hydroquinone.
Aluminum chloride.
Formaldehyde.
Chemical sunscreens.
Pregnancy Safe Skincare Products
Cleanser:
Glowbiotics Revitalizing Cleanser This cleanser has been with me through fighting acne, anti-aging and now pregnancy. There is truly no other cleanser like it! For 20% off use code: amber20
Glowbiotics Get To Oil Cleanser I use this as both an oil cleanser and a cleanser and its amazing!
Toning:
Glowbiotics Probiotic Brightening + Refining Layering Solution I use this several times a week for exfoliating and brightening.
Treating:
Paula's Choice BOOST C15 Super Booster, 15% Vitamin C with Vitamin E & Ferulic Acid I
Glowbiotics Advanced Vitamin C Brightening Serum I was using this Vitamin C for a couple of years prior to my pregnancy so I was beyond thrilled I could keep it in my regimen. Use code: amber 20 for 20% off
Asterwood Triple Repair Matrixyl 3000 + Argireline + Hyaluronic Acid + Organic Vitamin C Serum I use this serum nightly and I absolutely love it! I'll be using this long after my pregnancy and breast feeding.
Paula's Choice Pro-Collagen Multi-Peptide Booster Serum This was ok in my opinion, but loved by others so I thought it would be worth mentioning. I prefer the one listed above far more, and his more than half the price.
Moisturize:
Summer Fridays Jet Lag Mask I've been using this nighty and regret not trying this years ago! It is so brightening, hydrating and is safe to use around the eyes. I have noticed a huge increase in hydration and brightening in my eye area as well.
Glowbioics Probiotic Hydraglow Cream Oil This is another product from Glowbiotics that I can't live without. I have been wearing this almost daily for many years and will never stop! It's so beautiful when mixed with a drop of your favorite foundation.
COSRX Snail 96 Essence This is more of a serum but I added it under moisturizers because it's so hydrating! This is another super affordable product that I'll be using for years to come.
Protect:
La Roche-Posay Anthelios Tinted Sunscreen SPF 50 This is a wonderful SPF that I was beyond impressed by. It lightly evens out my skin tone and lays so beautifully on my skin. Con: the scent is horrendous but you only smell it while it while applying it. The trade off is great!
Weekly Treatments:
Summer Fridays Overtime Mask – Pumpkin Clarifying Face Mask This has been a great weekly treat for my skin. It's not super exfoliating but it does light exfoliate. It leaves my skin so soft and smooth!
Paula's Choice 8% AHA Gel Exfoliant This has also been another great addition to my weekly treatments. It exfoliates beautifully!