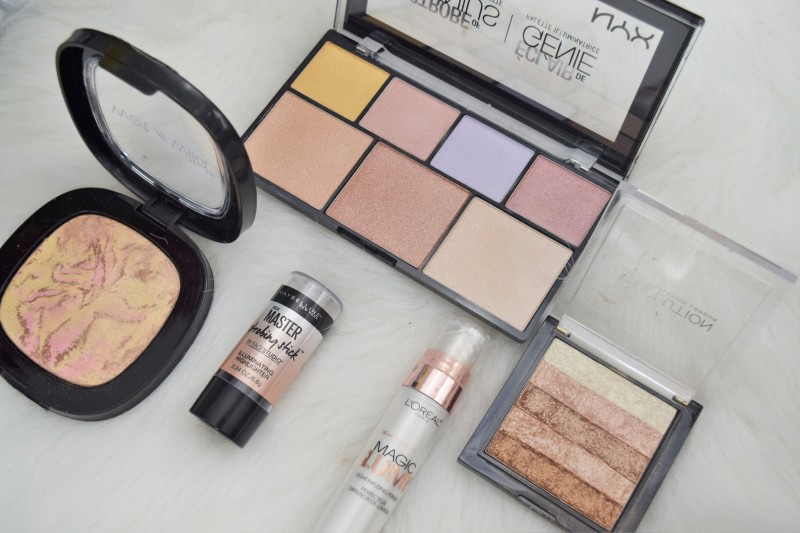 The Best Drugstore Highlighters
With every makeup company making their own Highlight or Strobing  products it can be a bit overwhelming  trying to figure out which brand to buy or weather to go  High End or Drugstore. We always hear about how amazing all of the over expensive products are so I want to share my tried and true yet affordable  Highlighters From The Drugstore. The Drugstore Highlighters I am sharing today are proof you don't need to spend a million dollars to make those cheekbones stand out. This post is to help all of you ladies get that High End look using affordable products from the Drugstore! Lets get into it.

Makeup Revolution| Shimmer Brick-
This Highlighter is the first product I've used from Makeup Revolution, and WOW! Out of every Drugstore Highlight I was the most impressed by this. This is your highlight if you're going for the Bronzed Goddess look.
Shimmer Brick| Makeup Revolution
Nyx|Strobe Of Genius-
I had high hopes for this palette as The Nyx Contour and Highlight Palette has been my ride or die for quite some time now. Again,  Nyx delivers! This makes for an awesome travel palette should you want options.
Strobe Of Genius| Nyx Cosmetics
Wet N Wild|To Reflect Shimmer Palette-
The hype surrounding this Beauty is REAL! This was less than $5 and has been on every high point on my face for the last several days. One small down fall is it doesn't last all day, but it stayed on long enough to make this list.
To Reflect Shimmer Palette|Wet N WIld
Maybelline|Master Strobing Stick-
This  Strobing Stick stood out to me as it's one of the first of it's kind at the drugstore. Coming in two colors with the diversity of being applied in multiple ways this makes for one killer Highlighting product. I apply this under my foundation as well as over and also apply a powdered highlight. My perfect Highlight Combo is this Strobing Stick with the Makeup Revolution Shimmer Brick over. When wearing this combo you can see the high points of my face from the next state over. Just Gorgeous!

Master Strobing Stick|Maybelline
Loreal| Light InfusingPrimer-
Want  luminosity on a budget? This is your new favorite primer. You can apply the Light Infusing Primer in a number of ways. Just on the areas you want highlighted, mix it in with your foundation or, my favorite, applied under your foundation. Either way you chose to us this primer it will not disappoint! Also, I find this to be super comparable to Becca's Back Light Priming Filter. You can find my full review on that Here
Magic Lumi Light Infusing Primer|Loreal
Hopefully you found some inspiration in this post as well as feel less pressure to purchase a high end Highlighter to get a high end look. Please share some of your favorite Drugstore Highlighters with m
XOXO,
AmberXO