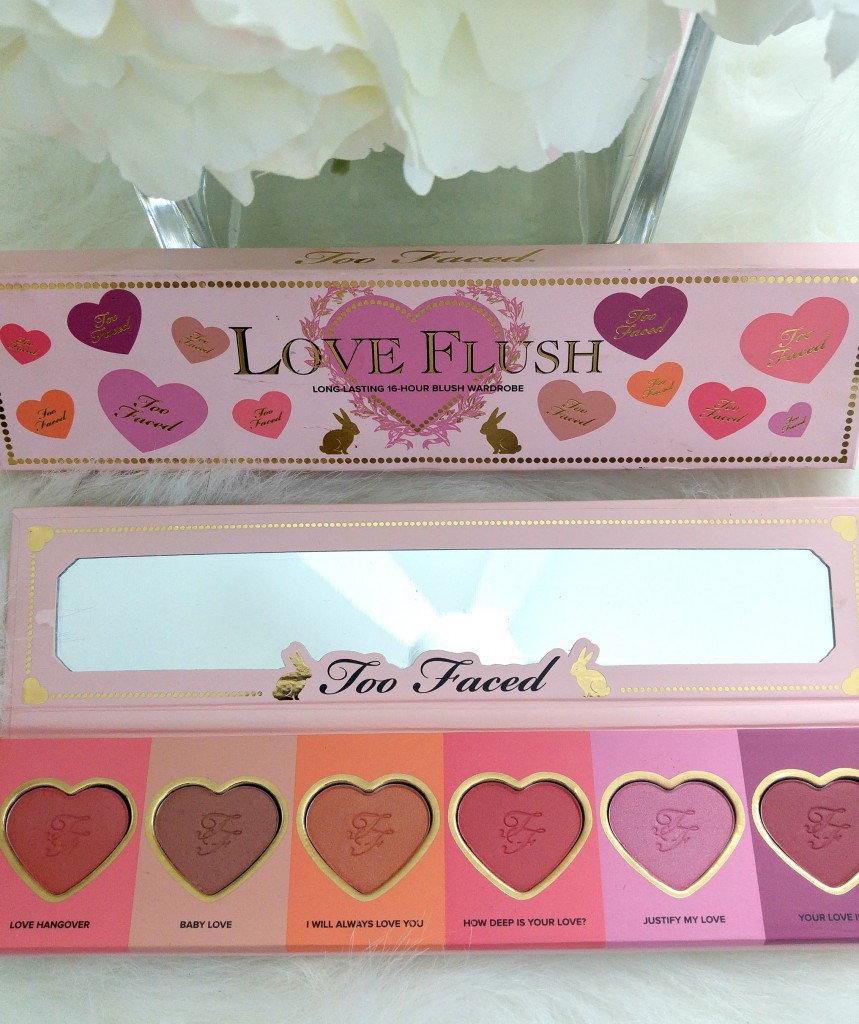 Too Faced Love Flush Blush Wardrobe
Seriously, Too Faced? Could your packaging be anymore adorable? Again, I made a purchase almost soley based off of Too Faced's reputation and beautiful pink heart packaging. They definitely knew what they were doing when they created the packaging for this one. Am I a sucker for appreciating good packaging? Maybe, but its the product that matters most and Too Faced has quite the reputation when it comes to delivering the goods. In my previous post I mentioned  I have developed quite the palette addiction. Anything consolidated into one package is what I am all about these days. A girl needs options but organized options.
I travel quite a bit and like to have plenty of options for different looks with me. Packing multiple blush compacts in my bag is quite annoying so I have been sticking with the same two blush palettes for quite a while now. See my earlier post, You're Making Me Blush, to see what palettes I was using prior to the Too Faced Love Flush Blush Wardrobe palette. When I received the email introducing the Too Faced Love Flush Blush Wardrobe I wanted to dance naked in the streets….or just buy it asap 🙂 I have come to trust Too Face's cosmetics and am now impatiently waiting for their next release. The Too Faced Love Flush Blush Wardrobe palette comes in 6 beautiful shades with claims of being long wearing, fade proof, smudge proof and having the ability to keep your cheeks flushed for up to 16 hours, I was anxious to see how these claims checked out.
First off, I have to say Too Faced is on top of their shipping game. Everything from the shipping time, to the packaging is an A+!
The Good
Gorgeous colors!
Amazing color variety! Colors for every season and every look. YES!
Applies evenly
Great Pigmentation
Did not smudge
 I didn't quite wear it for 16 hours, however it did last a solid 7 hours!
Blends beautifully
From left to right-Love Hangover, Baby Love, I Will Always Love You, How Deep is Your Love?, Justify My Love and Your Love is King
The Bad
The length of this palette is not ideal. It's longer and thinner than your average palette. A bit too long if you ask me. I thought it would have made more sense to do two rows of 3. As you can see it is significantly longer than the Too Faced Bon Bons palette.
I am more than obsessed with this palette! Other than for the sake of satisfying my makeup buying addiction,  I really wouldn't see a reason to purchase any other blushes in the near future. This palette is everything I want in a blush palette.  If you are looking for that one blush palette that does it all, your search is over. The Too Faced Love Flush Blush Wardrobe palette is your palette for life!
I can't wait to know what Too Faced has in store for their spring collection. Please let me know your thoughts on the Too Faced Love Flush Blush Wardrobe palette.
Love,
AmberXO