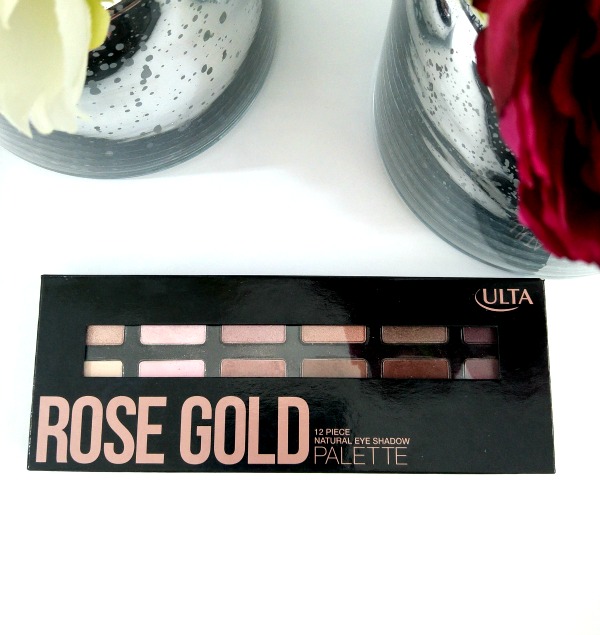 Ulta Rose Gold Natural Eye Shadow Palette
Another palette, another review! I have come to the conclusion that my lip product addiction has now turned into a palette addiction. Any kind of palette, but more so  eyeshadow palettes. I was standing in line at Ulta when the Ulta's Rose Gold Natural Eye Shadow Palette caught my eye. It' not a new palette, but it hasn't been talked about enough. I rarely ever hear anyone discussing this line, by Ulta, yet the shelves are always cleared out! This alone peaked my interest and made me want to learn more. One thing that made this even more interesting is that the Ulta line is very affordable and constantly put on amazing deals. I decided that I couldn't go wrong and ultimately bought the Rose Gold Natural Eye Shadow Palette to give it a try.
I would not say this is a dupe for Urban Decay's Naked 3 palette as there aren't any dupes in Ulta's Rose Gold Natural Eye Shadow. It's just another Rose Golds palette! This palette comes with 12 shadows. 6 shimmer 6 matte retailing for $20.00. This palette also includes a brush, which I love. I love trying new brushes and adding them to my collection.
The Bad-

The minute you dip your brush in the shadow theres an explosion of powder. Ok, maybe not an explosion but it is definitely powdery and doesn't stay contained the best!

Fall out. I do have to say that this isn't a "break it" situation for me as I always apply my face makeup after my eye makeup to make any excess easier to clean off.

Cheap packaging, but come on you're not wearing the package and one see cheap packing through your makeup look

The Good-

Pigmented Shadows
Easy Blending
Even number of matte to shimmer
Long lasting. I went a solid 8 hours with the my shadow still looking bright and vibrant
Comes with a good brush

Swatches on the arm don't do these shadows justice! I can promise you that applied over the right primer these shadows are lovely! The primer I use is Mac Cosmetics Paint Pot| Soft Ochre

From left to right- Prosecco, Bubbles, Breathless, Dessert, Sweetheart, Orchid

From left to right- Champagne, Pink, Hopeless Romantic, Chandelier, Luxe, Dahlia
Conclusion: 
I was really impressed by  this palette! I would absolutely recommend Ulta's  Rose Gold Natural Eye Shadow palette. I was able to use it for a few different looks which included both day time and night. For the price, the quality is amazing and I'm all about getting value. If you want a long wearing pigmented eye shadow palette then you definitely want the Ulta Rose Gold Natural Eye Shadow. All in all, I was very pleased with this palette and think I will hit Ulta the next time they are having a sale on this line as I'm now excited to try more of their products.
What do you think about Ulta's line? Have you tried their Rose Gold Natural Eye Shadow Palette?