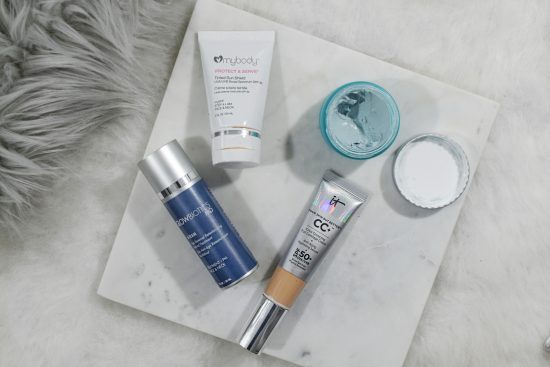 CURRENT FAVORITES
It's that time again…that time where I try a bunch of new products (poor me) then share what I"m loving. In this post I am sharing not just products that I am liking but products that I am obsessed with and will continue to repurchase. I am currently fanatical about caring for my skin and if you've been following my skin journey than you know why. If not you can catch up on my blog posts where I have documented a few of the procedures I did to get rid of my acne, scarring as well as pre-mature aging. At the end of the post I shared my video where I talk more in depth about all of these products.
GLOWBIOTICS MD Tinted Sunscreen SPF 30 • $65
I was never a fan of tinted sunscreen until I started this one. This was the first product I ever tried with probiotic technology and it's safe to say this product is what peaked my interest on the entire concept. This spf doubles as a makeup primer as it's silicone based. In my favorites video ( posted below) I mentioned that I love laying it under my IT CC Cream. Combining the 2 makes my skin glow!
TULA Probiotic Skin Care Exfoliating Treatment Mask • Tula • $48–66
This was the second probiotic skincare line I had heard of. This mask was sent to me by QVC and I am so glad they sent this to me as I probably wouldn't have strayed from the initial probiotic skincare line I was using. This mask exfoliates my skin so well leaving my skin free of blackheads and dry skin. I can't recommend this mask enough!
OUAI Texturizing Hair Spray • Ouai • $26
This was also sent to me by QVC Beauty IQ, and again had it not been sent to be I may not have tried it. I don't experiment too often with styling products since they either don't work or leave my hair feeling sticky. This product worked and my hair feels like I'm not wearing a thing! I am such a beach waves kind of girl and this texturing spray helps add a subtle texture while adding slight volume. If you've stayed away from texturing products for the same reason as I but want to add a little texture to your beach waves then this product is a must, ladies!
Original Oil • Kérastase • $28–58
Yes! Just yes! Simply put, Do you want your hair to glisten like a diamond? Then add a pump to your hair and thank me later. After all of the damage I had done to my hair this product is what kept me from losing my mind and regretting the hell I put it through. It's pricey but a little goes a long way.
Aveda 'Damage Remedy(TM)' Intensive Restructuring Treatment • Aveda • $38
This treatment most definitely lives up to it's name Damage Remedy. A remedy it most definitely is! My stylist recommended this to me and said I would notice a difference after one treatment and he was right.
Tarte Cosmetics Make Magic Happen Eyeshadow Palette • Tarte • $32
I purchased this palette the day after I swore off buying makeup I didn't need. I saw it, swatched it, bought it. It's neutral, creamy, small enough to travel with. What's not to love!
BH Cosmetics Carli Bybel Deluxe Edition 21 Color Eyeshadow & Highlighter Palette – Only at ULTA • $22.50
In the video I mentioned that this palette replaced my Too Faced Chocolate Bar. Those are big words! The chocolate bar palette was my ride or die, holy grail nothing could ever compare palette. Not anymore! The BH Cosmetics palette is simply amazing! The highlights are just beautiful and the shadows are creamy, pigmented and blended wonderfully. Can we also talk about how it's half the cost of any palette and has more products. Amazing.
GLOWBIOTICS MD A-TEAM Intensive Retinol Age Reversal Eye Cream • $95
I'll soon be doing a full blog post on why we aging ladies need to use a product with retinol. This product changed my life!
Redken Pillow Proof Blow Dry Express Treatment Primer • Redken • $24
As mentioned in my YouTube video I was ultra impressed by this serum. It holds true to it's claims of cutting the drying time in half which my arm that falls asleep while blow drying thanks me for. If you have have long thick stubborn hair like I do then you need this product like yesterday.
Have you tried any of the products I mentioned?