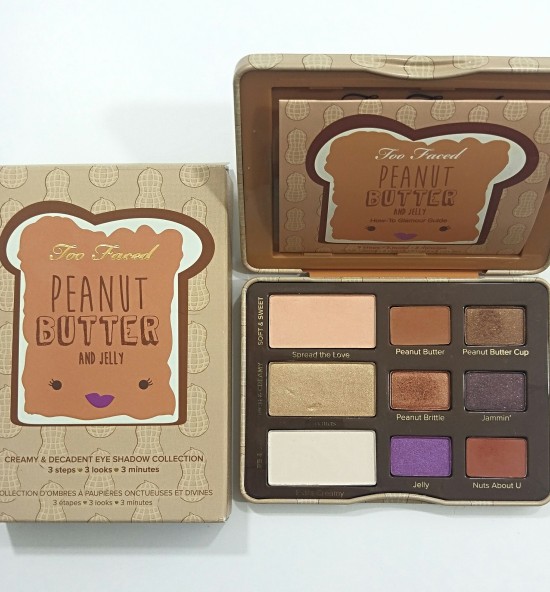 Too Faced Peanut Butter and Jelly
It's Peanut Butter Jelly time! Does anyone else hear that song in their head when they think about this palette? Anyways, I think it's safe to say that I not only have a  palette addiction, but a Too Faced palette addiction. As soon as I hear of a release date for any of  their new products I'm anxious to get my hands on it with the Peanut Butter and Jelly palette being no exception. If you appreciate things that look pretty or makeup of excellent quality, then you probably share my love/obsession for Too Faced.
At this point I don't just look forward to the next Too Faced eye shadow palette itself, I also become very anxious to see what ultra adorable & fun packaging they come up with next. I can honestly say no other cosmetic line has ever dazzled my senses the way that Too Faced does each time they release something new. If I had to use a trendy way of describing it all, I'd say #looksgood #smellsgood #feelsgood #SUPERimpressed. Does that sum it up for you? Now, if you're wondering about the way it smells, since that's something you can't take in visually, I'd put it this way: The Peanut Butter and Jelly palette is similar to the Chocolate Bar palettes in the scents ( get it?) that they are functional novelty items that, if blindfolded, you might confuse as a snack. What all of this does is add to the overall value of the product. You're not just buying an exceptional palette, which is the most important part. You're also acquiring something fun. Think of it this way, you're purchasing a tin piece of toast with makeup inside. Does it get anymore fun than that?
Now for a little bit of history on this product. The second palette of the Chocolate Bar series, Semi-Sweet had a popular shadow named Peanut Butter which was extremely well received and drew a lot of praise from Too Faced fans. That in turn ended up serving as the inspiration for the Peanut Butter and Jelly palette. I am incredibly happy to report that the Peanut Butter and Jelly palette does include the hit shade (Peanut Butter) as well and its as good as ever! This limited addition palette comes with 9 gorgeous colors  and retails for $36.00. The palette is also Exclusive to ULTA and yet another win for AmberXO #ULTApoints 🙂
PROS-
Pigmentation is near perfect (They've done it again ladies!)
Easy to blend – as one might expect from Too Faced.
Long wear time
Gorgeous colors
Scent of cocoa is present and smells wonderful
Cute packaging
Mirror included
CONS:
Exclusive to ULTA. While this was a win for us Ultamate rewards members I am sure you Sephora Beauty Insiders are not digging the fact you didn't earn points for your purchase but that's easy enough to fix.
The claim was it was supposed to have a peanut butter scent.I personally found that, while delicious, it gave off more of a cocoa smell. While that didn't bother me, it may disappoint some of you who are hardcore peanut butter lovers.
Limited edition. Seriously, this would have been a re-purchase for sure.
Buy Recommendation:
I would absolutely recommend Too Faced Peanut Butter and Jelly to anyone! I hold the original Chocolate Bar palette to the highest of standards and I'd say the Peanut Butter and Jelly palette is right up there with it. Too Faced has done it yet again.