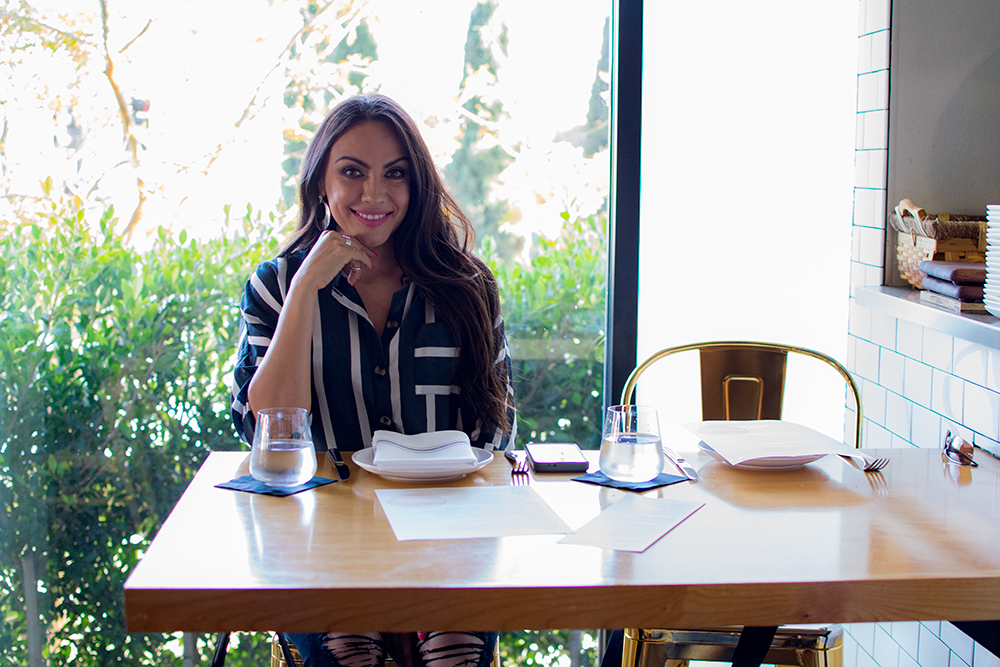 TRUST RESTAURANT
Our first dinner took us to Trust restaurant on Park Blvd. You'll immediately notice that I've underlined the part of their name that spells "us". Its intentional. TRUST promises a unique dining experience where the focus is not only on food, ambiance and service as it is in all restaurants but they add another dimension into the mix where they train their staff to engage and understand diners so that they can make recommendations for you and craft out a unique experience each time you visit as opposed to having you hunt down the menu for what you think you will like they possibly sticking to that each time. I'll detail how that portion of the dining experience went as we move through my review.
Upon arrival, the first thing that I noticed was the floor to ceiling windows and the nice patio. While I appreciate a dim and intimate setting, I absolutely love natural lighting and think that it is a must have when dining out. There's nothing like the sunshine pouring in or a natural transition from sunlight to sunset as you enjoy a bite.
The service was warm, friendly and very personable from the get-go, with absolutely nothing forced. Our server, Alyssa, introduced herself as well as the menu then asked some initial questions about our likes and dislikes so that she could get an early understanding of what sort of dining experience we would like. We started off by ordering a lovely cocktail that she recommended (see below) two starters, one of our own choosing and one that Alyssa recommended. These were the Hamachi Tartar and the gnudi (both pictured below). The cocktail was right up my alley, it was bright, with strong citrus notes and a floral fragrance that was refreshing. If you know me, then you know I'm a lightweight and don't drink often or very much when I do. I didn't quite finish the drink as a result of that but I had more than enough of it to be happily surprised by how fresh and vibrant the flavors were.
The Tartar was absolutely fantastic! I'm used to ahi tuna or beef tartars and what really impressed me here was the addition of caviar. The Tartar itself was wonderfully put together, with roe, avocado, sesame and cilantro and the strong salt component from the caviar (the black stuff in the photo!) gave it exactly what it needed. The gnudi was equally impressive and had a fantastic balance of flavors. It was garlic forward and I loved it! That complimented the greens and mushrooms perfectly and showed me that the chef really knew what he was doing. Far too often kitchens are more reserved than they should be with flavor profiles and try not to disappoint anyone instead of impressing everyone. This wasn't the case.
Having been so pleased with Alyssa's initial recommendations, we put the menu analysis on pause and let our wonderful server / dining advisor take control – and she did not disappoint for a split second.
Our main courses were equally impressive as we sampled dishes from their ocean and land menu. The broth flavors were very well composed, the meat was perfectly cooked with a wonderful amount of seasoning and a carefully constructed glaze and the portion sizes were perfect. (see photos of mains!). For the sake of keeping this part of the blog to a tolerable length, I won't list every single ingredient for anyone who's curious, I highly recommend visiting trustrestaurantsd.com when you get a moment – if not today, then some point soon (bookmark it!)
Between meals we also had the pleasure of chatting with one of the owners, Steve, who was extremely hospitable, friendly and fun to speak with. In fact, we were asking questions about the brussel sprouts as we both loved the tortilla strips that were added in (these aren't your Mother's brussel sprouts, trust me!) and got a few laughs. We expected some sort of deep, intricate answer that involved experimenting for days in the kitchen. However, we learned that the head chef was enjoying a few doritos on a night off and started thinking about how the dish could use more crunch! Such a smart dish, inspired by such a casual moment! Who'd have guessed? LOL
With all of that said, we arrive at dessert. You probably know that my husband, Peter, and I spent a long time on Keto. Peter actually never cheats or breaks diet, like ever, and had been on since June of 2017. Well, tonight was the night we were going to finally have that cheat meal 10 months in the making (well, 10 for him lol). We started off with the Profiteroles and OMG, these things should be illegal. I never knew how good one could be and I guess that's just the reality with pastries. You think you know what profiteroles are or that maybe a different place (like TrUSt) could be a bit better than what you're used do but not by much….ummm…NO, just no. Looking at the photo I have below you'll probably assume these are rich and dense right? NO. Again, NO! They were so light and airy that it felt like some sort of magic trick. Filled with a light and perfectly selected banana cream then finished with caramel and sea salt. This combination was absolutely perfect. Having the light banana cream acts perfectly to offset the deeper, sweeter flavors of caramel and the hit of salt is exactly what this dessert needed for balance and finish. Even if you're not in for diner or want to test the waters out with something quick, this is a reason to visit TRUST. The other photo you see here, albeit one taken in very dim lighting, is of their Bourbon Custard featuring flavors of vanilla oak sorbet, toffee, orange and cherry. Now let me tell you what I loved. The idea is that you scoop all of the different flavors and layers into one bite. It literally feels like a bunch of amazing flavors got together and decided to throw a birthday party in your mouth. Its not only something you're eating but also something you're experiencing as you try to have your brain catch up to your mouth. The different flavors, textures, the temperature. It just makes you happy and its anything but the same old same old.
To conclude, we absolutely loved our dining EXPERIENCE at TRUST and while we consider ourselves a bit of a picky, know our food inside out, type of couple when it comes to dining – we 100% trust the team at TRUST and it's one of our first stops when we head back to San Diego in the near future. If you appreciate fine cuisine, this is the place for you but I hope that people really understand that the other element here is very special. There's just something about being able to handover the reins on your meal selection and have it go so smoothly. It makes things more relaxing, far less predictable and certainly more enjoyable!