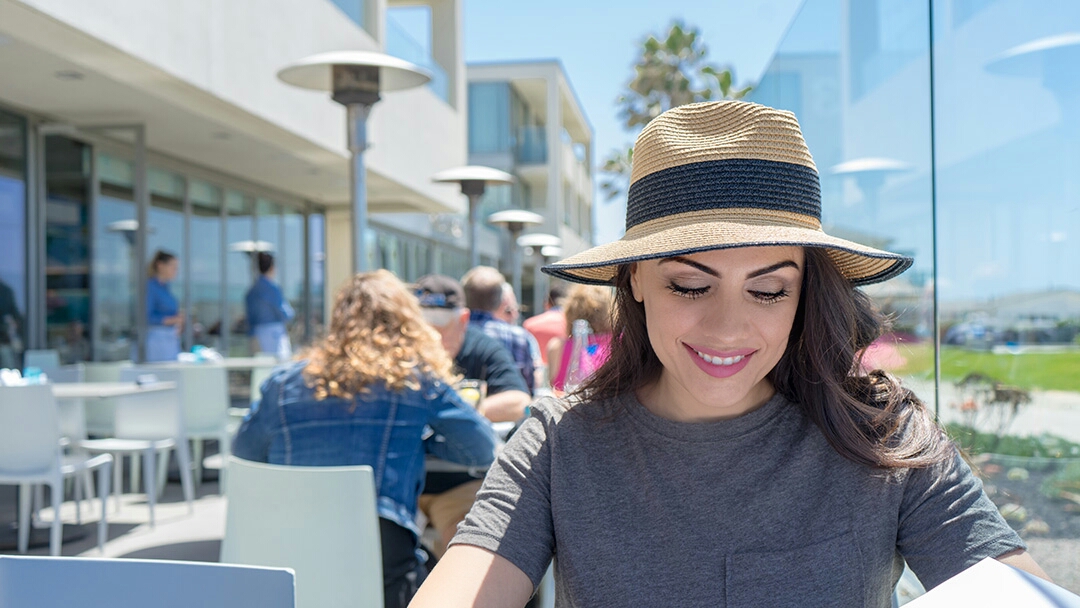 JRDN AT TOWER 23
Pacific beach has a lot of great attractions and as we already know, Tower 23 is one of them. Within Tower 23 hotel is JRDN restaurant. Located on the ground level floor, JRDN makes you feel like you're right on the beach. It's hard to articulate how or why but some beach area restaurants just can't capture that feeling of being on the coast even though you're right there. Whether its the beautiful patio with tall glass surroundings, the inside area with floor to ceiling windows, the open concept bar that allows natural sunlight and a nice breeze to flow in, the color scheme of the restaurant or just a combination of everything that they do, JRDN captures that beach feeling that I love so much.
After admiring the ambience, we met with our hostess who was a total sweetheart. She was genuinely interested in how our night was going, where we were visiting from etc. When I told her that we were visiting the restaurant and that I was going to be blogging about it, she was so happy and excited that I started feeling even happier and more excited about it as well – I'm pretty receptive to positive energy!

After being seated, we met with our server who was equally great. She patiently went through the menu highlighting some of her favorites along the way then answering questions about our various options. Being Mr. Culinary arts, my husband – Peter – is always curious about an item or two and he told me that he's very happy when someone doesn't just say something is good or bad but takes a moment to describe the flavor profile of a dish. At Tower 23, we had the pleasure of chatting with the Excutive Sous Chef – Kensie, who took the time to tell us more about the restaurant, their approach to cuisine, some of the choices they made and why as well as detailing different elements of the dishes that we ordered. Kinsey was absolutely great – suffice to say, Peter was very happy on this evening.
We kicked things off with Avocado toast. This is a dish that we've had at several different restaurants so we were curious as to how JRDN would approach it. They did a great job. The bread is critical when it comes to avocado toast and they hit it head on with some pugliese bread which was toasted, but not over toasted. On top was avocado, micro greens, shiso, parmesan and radish which not only added some color to the plate but some extra dimension. Used right, I love radishes. Used wrong, I'm not a fan at all. I loved the radishes here as that zest was welcome and balanced the dish out nicely.
The Korean style lamb loli pops were next up and I need to stop everyone right here. I know that not everyone is a fan of lamb as it can be gamey. Peter feels the same and is about as discerning as they come with these sort of things. He even mentioned it before they arrived at the table – that he had his fingers crossed. After his first bite, he said "Oh…oh wow…wow, they nailed it" – this man doesn't lie or give compliments easily. I quickly tried one and the lamb loli pops were about as tender as any piece of meat I'd ever had. I couldn't believe it was lamb! The cook and cut was so perfect, it was so much fun to just grab and eat. But the seasoning was something special here, for those of you who aren't familiar with Korean, its similar to Thai in many ways and there was a great balance here of sweet & savory with just the right amount of spice. I probably could have eaten twenty of these. I know loli pop chicken wings are a big deal but after having these lamb loli pops, I don't know if I can ever go back.
Being so close to the ocean and seeing the chefs prepping the sushi, we just couldn't pass up the opportunity to try JRDN' S Lobster sushi rolls. With rolls, there's just two things you look for. First, you look at whether they were well made (rice is cooked properly, the roll size is consistent and appropriate, freshness etc) – we'll go ahead and check that box here. Next is flavor – it's all about the flavors. There's an endless number of combinations when it comes to sushi rolls and we've tried the good, bad and the ugly. I'd like to nominate the lobster rolls at JRDN to the good category! The lobster worked perfectly with the touch of jalapeno they added. Lobster is a very sweet meat and if left alone with some sauce and white rice – its just too much of the same, sweet note that you get. However, when you pair it with just a bit of jalapeno you get a kick and some acid to balance things out. Obviously, they get that at Jordan and we were treated to a lovely dish.  
For our main courses we chose the miso glazed halibut and the braised short ribs for some land and sea diversity. Oh boy, did these hit the spot. The short rib fell apart at the touch of our fork the way it should. The jus was well balanced and unlike some places, Jordan doesn't drench their dish in sauce but rather provides just enough to bring the flavors together. Peter noted that he appreciated their stepping out of the box by incorporating things like ginger and kimchi roots as that acidity was welcome to what was otherwise a rich dish. The end result was a plate that was well balanced, flavorful and unique.
The halibut had an asian flare to it with shrimp dumplings, bok choy, shiitake mushrooms, candied leeks and brown butter dashi which is exactly what caught my attention. I love asian inspired seafood and Halibut is my favorite when it comes to fish so this was already a winner on paper and they delivered. The halibut was cooked just right and all of the individual components felt like they belonged on the plate. What's more is is that everything combined to flavor the broth which was so good that it could have been served by itself and still been great!
On to dessert! Peter hadn't had a dessert in nearly a year as he shies away from sugar (by that I mean he eats none), but our San Diego trip was the perfect time for a cheat meal, as mentioned earlier, so it was time to let him choose. His two favorite dessert dishes happen to be Carrot Cake and Tiramisu so I saw it coming when he spotted the Carrot Cake dish on the menu. With someone as deep into the culinary arts as Peter, it's always a challenge to impress him but when you have one of his favorites and he hasn't had a dessert in a long time – that's rough combo – so I kept my fingers crossed that it wouldn't disappoint.
Our server arrived with a beautifully presented dish. The carrot cake was thick, colorful and well portioned then on the side was some carnival style caramel popcorn which was very interesting! I looked at the dish, then back at Peter, then back at the dish and just waited. He dug in and said "Yes! So moist and they didn't ignore the savory spices!". Peter explained, as he has before, that carrot cake isn't meant to be a plain cake or a dose of sugar but rather one that really is very savory. Being dry would be an outrage but he said this one was particularly moist and he admitted the caramel corn worried him but said the crunch was a great surprise and paired extremely well with the cake then the sauce itself was also well selected in being caramel as it has deeper flavors than something like a strawberry sauce. The greens which topped the dish also fit well as they served to brighten this deep and delicious plate. All of the different flavors proved that the dish was well thought out and the taste was amazing. We felt the way we should after a top notch dessert – satisfied. In short, it was Peter approved and that's a big deal!
Given that we were staying at Tower 23, we had the perfect opportunity to visit Jordan for lunch. I also had a great time chatting with Kinsey (the Executive Sous Chef) who is a fellow Austinite and wanted to be able to say bye before leaving. I also really wanted to get a sample of their lunch menu so we had to make it happen. I've added some photos and a picture says a thousand words so I'll keep my comments short – lunch was 100% on the same level of standard as dinner. The only difference was we had the entire meal under the warm San Diego sunshine while staring out at the beautiful ocean.