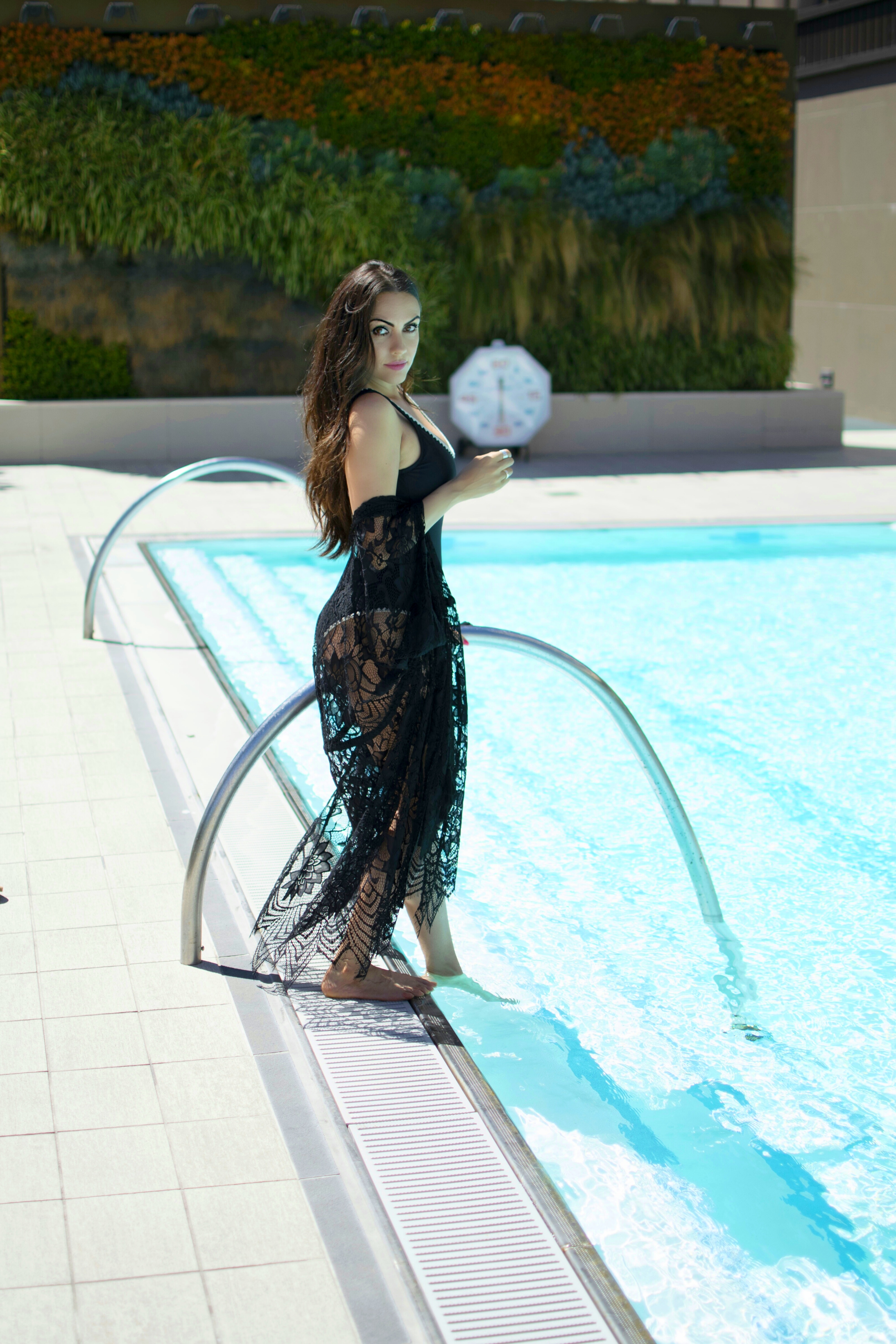 SAN DIEGO TRAVEL GUIDE

Our trip to San Diego was sponsored by all thoughts and opinions are my own.
OK, so this isn't a comprehensive guide but it does contain some recommendations that you want to learn about – that is if you're looking for good times and good food. As many trips as I've taken I can't believe this the first travel guide that I am sharing! Peter and I spent 1.5 days in San Diego/ Pacific Beach and had a wonderful time so I had to share our experience. Hopefully my guide will help you when planning your next trip to the area or perhaps just give you some vacay inspiration in general (I constantly get inspiration from reading about different trips). We have been wanting to take a relaxing beach vacation for a while but unfortunately haven't been able to schedule one in. Timing and lining up our schedules is a bit of a challenge with anything that requires more than a day, so we were excited for our little Southern California get-a-away. In the short 1.5 days we visited San Diego we got to eat at two restaurants that you absolutely have to read about (trust me!), get in a killer workout, lounge poolside on a stunning rooftop and stay in a beach front hotel. Honestly, even though we were in San Diego for such a short period of time, the few places we visited made it a wonderful stay which left us feeling fulfilled and ready to plan our next trip.
Where To Stay

TOWER 23
Tower 23 is a beach front Boutique hotel located in Pacific Beach and it very well may just be the cutest hotel I have ever stayed in. I personally love boutique hotels as I find them to be very personal and quaint while delivering a unique experience. I also feel like the decor is more thought out and less generic than some of the big scale hotels. From the moment we arrived at Tower 23 I instantly fell in love. Everything about this hotel put out a 'relaxation and vacation!' vibe. The lobby was sleek and clean while the staff was super welcoming. We didn't have a complete view of the ocean but the partial view we had was enough to feel like we were on a beach getaway. I loved the simplicity and warm beachy vibe of the room. As mentioned before I love the personal touches added to boutique hotels and in our room I loved the ocean blue bath robe. I am a sucker for a hotel robe and the bright blue robes at Tower 23 didn't disappoint.
Travelling outside of your room is also a treat. Tower 23 right on the beach (see photos) and that typically makes for a beautiful walking area. We had the luxury of being able to stroll down the beach front while enjoying the sounds of the ocean and the beautiful San Diego sunshine. You can choose to walk down the docks and stand over the water or coast down and visit all of the different shops and stores. I honestly feel spoiled when I think about it since I would love it if it were just the beach but having all of the different options and variety in a walk goes a long way. You can be as entertained as you like or simply relax. Should you venture towards the town as opposed to the beach, you're within a few minutes walk from dozens of restaurants, coffee shops, grocery stores and everything else that you can think of so you can enjoy the beachfront life without compromising all of the conveniences that come along with the city. Full marks to Tower 23 for location selection.











AquaVie Fitness + Wellness Club
When Peter and I travel we often pick a hotel with a decent gym as we like to keep up with our fitness routines. When we toured AquaVie prior to working out, we were both beyond impressed. This gym isn't just somewhere you can get in a good workout "for  being by a hotel". No, AquaVie is a state of the art health & wellness facility with just about everything you need to have a great workout or a day of pure relaxation.
Walking into AquaVie, you feel as though you've just entered a day spa – albeit it a very big one. The staff are courteous and the facility shines with cleanliness which, for me, is a must when going somewhere to workout. The first floor hosts two separate areas for weight based exercises (see photos). One area is dedicated primarily to free weights – this is where you'll find power racks for squats and deadlifts, bench press stations, kettle bells, dumbbells and the like. The area is well appointed, extremely clean and features some large windows so as to let in natural light. The other area on the first floor, as you might imagine, includes all of the strength training machines you could ask for. So whether you're looking for a machine or free weights, Aquavie has you covered.
The second floor includes a very large cardiovascular (cardio) workout space that features everything from treadmills to bikes, rowing machines and everything in between. You workout facing tall, beautiful windows which pour in natural light, making it a very well lit space. Towards the center of the floor, there are multiple, large LCD screens tuned into various television stations. The ceilings, much like the windows, are very high making the area breathable and giving it a very comfortable feel. I personally think high ceilings are a must in a fitness area as they allow for better air circulation and that's something you want in a room full of people getting their sweat on. Also on the second floor are some very nice rooms where classes are can be held.
I should also note that the change rooms are beautiful and very well appointed. You feel more like you're in a country club than you do a fitness facility and everything you could ask for is provided.
Moving up to the rooftop is a treat as there is a track which runs around the perimeter as well as a full sized pool for lounging, relaxing or swimming laps. It goes without say that the view is a stunning lookout at San Diego and the entire area has an absolutely great feel. Who doesn't like being on a rooftop pool? Oh, I should also mention that there is ample seating, shaded areas with sofas, cardio equipment (yes! on the rooftop) as well as tables should you wish to have lunch – which was delicious.





Good Times & Great Food!
If you live in the San Diego area or have any plans of visiting in the future, this is a must read. If not and you just like food, it's still a must read!
As you all know by now, I consider myself somewhat of a foodie. In my world, that just means I love eating but fortunately for me, I've had a chance to do so much eating out that I've gotten pretty good at being able to articulate a dining experience and recommend (or not) based on my experiences. It doesn't hurt that my husband is an absolute culinary nut and pretty articulate himself. Fortunately, we were together for our dining experiences in San Diego and that always makes for a good time plus great photos.
The restaurants we visited were TrUSt Restaurant on Park Blvd and Jordan Restaurant in Tower 23 along Pacific Beach. In keeping with the restaurant theme, I'm including a couple of photos as an "appetizer" for all of you since I couldn't properly articulate my thoughts or review either restaurant without making this blog post the length of a novel so I've given them EACH their own individual blog post. Trust me, you'll want to see the photos and read about each one of these places, I enlisted the help of my super foodie husband Peter this time around and can promise that you'll feel like you're eating at each restaurant as you read through. Both are a MUST READ – trust me on this one!
TRUST RESTAURANT PREVIEW
Our first dinner took us to TRUST restaurant on Park Blvd. You'll immediately notice that I've underlined the part of their name that spells "us". Its intentional. TRUST promises a unique dining experience where the focus is not only on food, ambiance and service as it is in all restaurants but they add another dimension into the mix where they train their staff to engage and understand diners so that they can make recommendations for you and craft out a unique experience each time you visit as opposed to having you hunt down the menu for what you think you will like they possibly sticking to that each time. I'll detail how that portion of the dining experience went as we move through my review. READ THE ENTIRE REVIEW HERE (you'll love the photos and write up)

 JRDN AT TOWER 23

Pacific beach has a lot of great attractions and as we already know, Tower 23 is one of them. Within Tower 23 hotel is JRDN restaurant. Located on the ground level floor, JRDN makes you feel like you're right on the beach. It's hard to articulate how or why but some beach area restaurants just can't capture that feeling of being on the coast even though you're right there. Whether its the beautiful patio with tall glass surroundings, the inside area with floor to ceiling windows, the open concept bar that allows natural sunlight and a nice breeze to flow in, the color scheme of the restaurant or just a combination of everything that they do, JRDN captures that beach feeling that I love so much. READ THE ENTIRE REVIEW HERE (you'll love the photos and write up)