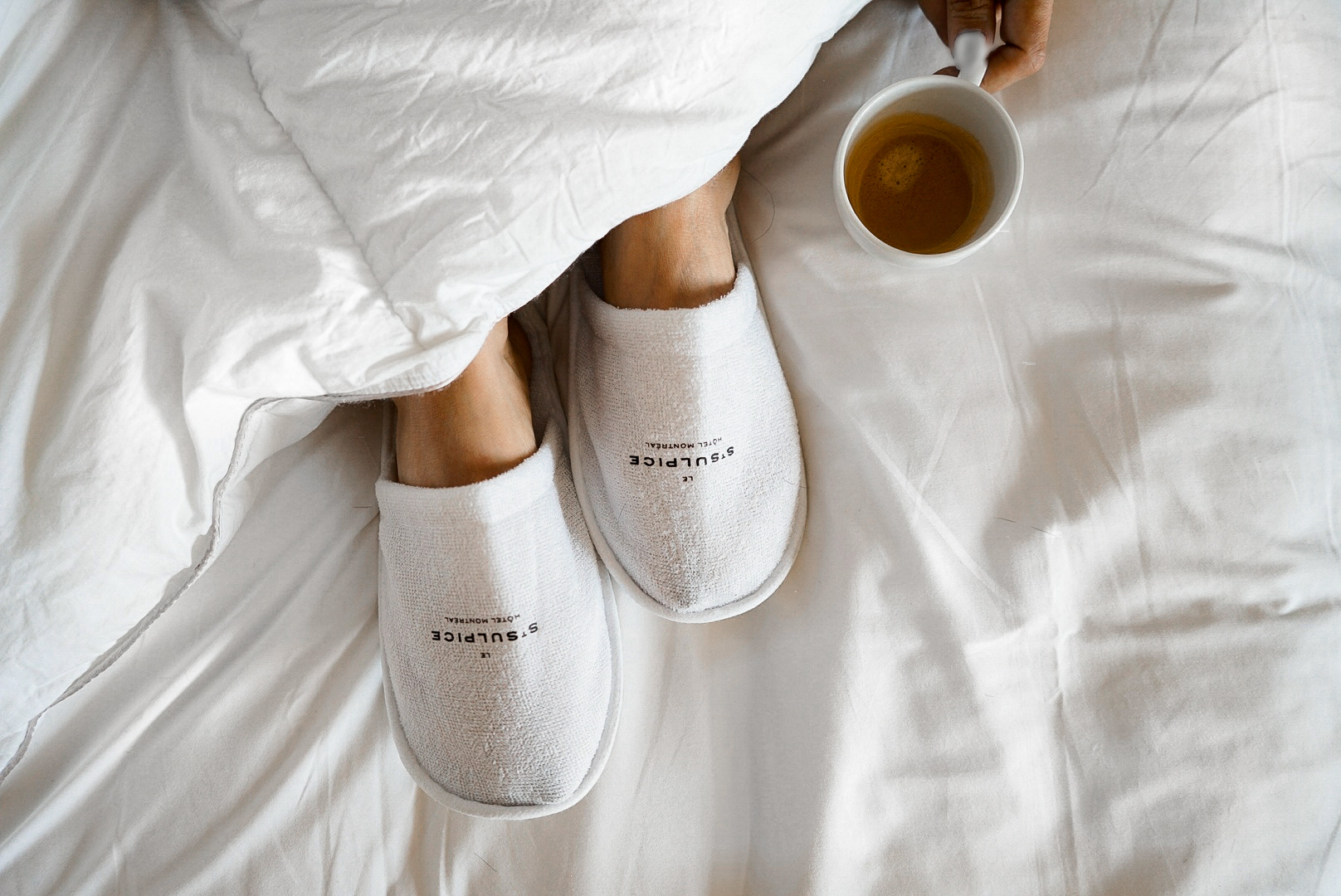 Le Saint Sulpice in Old Montreal
Thank you to Le Saint Sulpice for hosting us! Although this was a hosted stay all thoughts and opinions are my own.
While vacationing in Canada for a total of three weeks, Peter and I chose Old Montreal to celebrate our 4 year wedding anniversary and we have absolutely no regrets! Le Saint Suplice hosted Peter, Hinata (our Beagle) and I for three days and two nights. Not only is Le Saint Sulpice a beautiful luxury hotel located in Old Montreal, it is within very close proximity of everything you could possibly need while traveling (Montreal guide come soon) and perhaps even better than that, it is also dog friendly! Needless to say, that's  a huge win for us we love staying in luxury hotels but bringing our pup with us is non-negotiable.
Arriving at Le Saint Sulpice and Checking In
While driving up to Le Saint Sulpice I felt as if I were somewhere in Europe with the narrow cobblestone road and beautiful older buildings on each side. As we pulled up, I looked around taking it all in and remember thinking "wow, this is definitely a good start".  Valet was outside of the hotel waiting to open our door, assist us with our luggage, and park our car. They were very helpful and answered all of our questions about where to walk Hinata as well as where we could find additional parking.
Checking in at Le Saint Sulpice was seamless! The front desk staff was incredibly welcoming and professional. They instantly made us feel at home and reassuring us that we chose the right hotel to celebrate our anniversary. I should also mention that Hinata, our Beagle, liked their staff a lot as well. This wasn't just a luxury hotel that "accepted" dogs, they embraced them and loved saying hi to her. It may sound like a small detail but it just added to the warm and positive energy while also making our four legged girl pretty happy – which, of course, makes us happy.
The Hotel
It's gorgeous! All of it. That's the only way to start off my description the property. As soon as you walk into Le Saint Sulpice you get instantly get that feel of vacation and luxury and that's precisely what you want as it immerses you in an escape from reality. The view of the European style streets, the marble flooring leading up to the front desk and town towards the restaurant, the elegant touches and finishes – stunning. I should also mention that every hotel employee we passed by greeted us and made us feel very welcome. I'd be doing the hotel and everyone who reads this a disservice if I didn't discuss their restaurant, which is absolutely beautiful and also captures the European main room/garden patio style. However, there's so much to say about it that I've created a blog post, including photos of their delicious food and beautiful scenery. You have to take a look, even if its a quick one  * blog post coming soon*
Our Room
We absolutely loved our room! When Peter and I travel there are few things we look for  in room in order to feel at home and Le Saint Sulpice didn't disappoint. I'll list some of the things that jumped out at us immediately.
Large Windows– Whether we're at home, an airbnb or a hotel, lots of natural light is a must for Peter and I as it brings the space to life. This is often a concern with hotel rooms in big cities (have you stayed in Manhattan?) and Le Saint Suplice delivered. Not only did we have large windows letting in natural light but the view was beautiful! There is nothing I love more than drinking my morning espresso with natural light and a beautiful view (see photo below).
Spacious– Traveling for 3 weeks meant we had a little bit of extra luggage plus our pup, so being able to feel organized and have plenty of left over space was so nice. Again, this is another one of those things that you tend to worry about in big cities (…again, have you been to Manhattan?) but Le Saint Sulpice passed the test with flying colors and we had more than ample space.
Nice bathroom- The bathroom was just my style! All white with marble, a full length mirror and a bath tub I could live in forever. There's just something about a modern, clean bathroom that makes you feel a sense of luxury and cleanliness.
Nespresso Machine- C'mon, you guys know me by now. I am a caffeine junkie and will take a shot of espresso any day over a cup of coffee. In my opinion I think a Nespresso machine is a beautiful touch. The difference between a regular drip coffee machine and a Nespresso machine is exactly the difference between regular and luxury in my opinion. Having a nice Espresso also lends to the whole European feel.
Bedding- Regardless of where you are staying you want a comfy bed, am I right? Peter and I both found the bed to be extra comfortable and we both got a great nights sleep! I can't tell you how many places get this wrong. The bedding says a lot about a property's level of attention and detail if you ask me. Once again, Le Saint Sulpice delivered!
 Final Thoughts
We had a wonderful stay at Le Saint Sulpice. This is a property that we researched and compared to many others as we chose it to celebrate our 4th Anniversary. That means our expectations were high coming in and I can say that we were both extremely happy with our decision to stay there and celebrate our anniversary! What more could you ask for in a hotel? The location was perfect, the hospitality was incredible, and our room was fantastic! It was all around the perfect stay for Peter, Hinata and myself and we can't wait until next time. A picture is worth a thousand words so I hope you can take a look the ones I've included in this post and check out the restaurant (trust me!) to really give yourself an idea of what the experience is like. In close, I would recommend anyone who's staying in Montreal or Old Montreal to spend time at Le Saint Sulpice. You'll be so happy that you did!