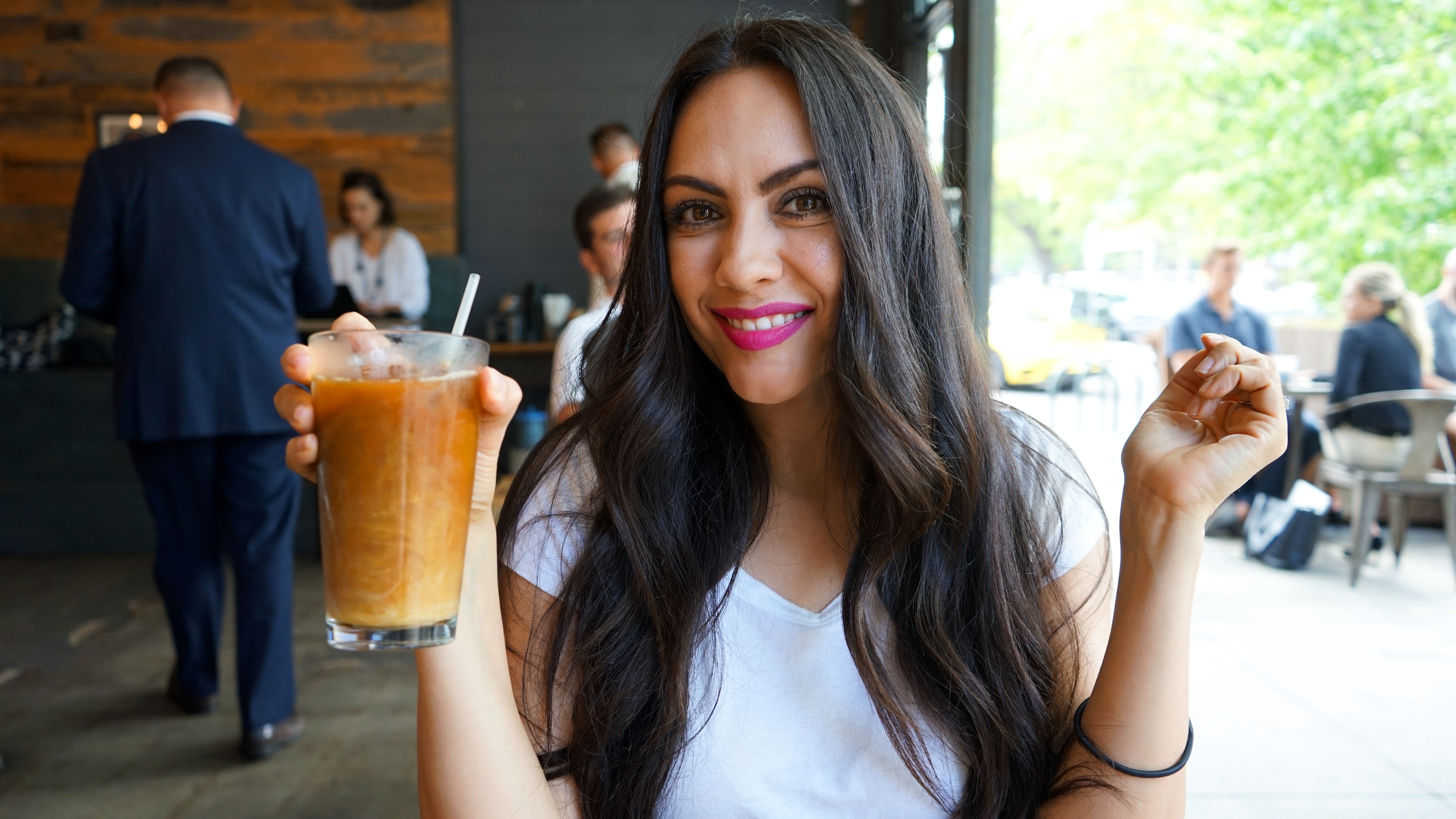 DENVER COFFEE GUIDE
If you knew my Husband, Peter and I, you would know that  sitting still for too long is simply a no-go. Said differently, we're that couple that is constantly racking up air miles! Ever since the beginning of our relationship we have loved nothing more than to explore new cities, sample their cuisine and visit a coffee shop or two…or three…or five. Given that both of us are fortunate enough to work from our home offices, we're afforded a lot of freedom and we try to take full advantage of it as we did this summer as we got a place in Denver and spent over a month living in the heart of the city. In fact, this was our third trip to Denver in less than a year. We first visited in October of 2017 for a few days then decided we just had to come back in May when two of our good friends (one from Canada and one from India) were able to join us. By then, we had decided that Denver was a candidate for where we would make our second home and felt that we needed to spend some serious time there and really get a good feel for the town. We did exactly that and in doing so, we had the chance to make a list of their best coffee shops then visit them all…repeatedly!
Before breaking down all of the different places we visited, I should note that Peter consistently orders a cappuccino and is about as harsh a critic as there comes. In fairness, we have a lot of high end machinery ourselves and as is the case with everything Peter becomes interested in, he obsessed over learning everything there was about cappuccinos from how to pull a perfect shot to milk frothing, temperatures, latte art and all of that other stuff. On the other hand, I take a more simple approach. I change up what I order based on my mood and vary from cappuccino to cortado or cold brew typically. I also tend to just say whether I like something or not and maybe note one or two things about it. I think that ends up being the perfect balance when you combine our approaches.
So without further delay, here's the shortlist of the best coffee shops we visited while in Denver.

 Thump 
 ( East 13th Locations) 
Thump gets our first mention since they earned the winner of of best cappuccino. We're specifying the location since we did try more than one and while the others were good, the Thump on East 13th is the one that makes the list. Nothing we had a Thump was below "very good". The Cappuccinos in particular were the best around. What Peter appreciated the most was the consistency. A lot of shops can make a good cappuccino once but then on another day a Barista comes in and is completely clueless, doesn't pull the shot right (ends up watery or bitter) then burns the milk and butchers the latte art. Nothing bothers Peter more in a coffee shop then that since you don't know when you're going to come in and have a great cup or have something that you throw out. Remember, he makes amazing cappuccinos at home so its not easy to fool him with something sub standard and his logic is that if he can make a great one as a "home Barista" then someone who does it everyday at a shop should at least be equal if not better since we're paying. In short, their cappuccinos rocked and we never had one that Peter "Mr. Cappuccino Barista" didn't love. I should also mention that the latte art was spot on every single time. This goes a long way in both my opinion and Peter's. The very start of your experience is the visual presentation. That's when you see something and say "OK, this isn't what I get at home or at some quick drive through, this is pro". Thump had beautiful designs every time and that's a critical to the overall experience. It also tells you someone really knows their stuff when they're excellent at the finishing touches since people tend to master the basics then move on to the finishing, more advanced, elements.
The food at Thump is pretty good, even if that's not what you're there for and the location is very spacious. The one negative is that, like so many other shops, their guilty of having squatters who tend to ruin coffee shops. I'm not talking about the person who is considerate but brings their work and sits down for an hour. I'm talking about the guy / girl who shows up and spreads their stuff around multiple seats and doesn't leave for 3 hours. I mean I get it, you spent $3 but c'mon. There's a balance and I wish more coffee shops would find a way to address this since there's always going to be a lot of people who take advantage. Still, a lot of that falls on those people and not Thump. That makes Thump one of our favorites.
What we loved:
WINNER of best Cappuccino (see details above)
Everything coffee beverage you order is at least "very good"
Very nice space, well laid out.
Friendly service.What we weren't crazy about:People who crowd the shop and spread their stuff all over.
Slower food service (20 minutes for almond butter and blueberries on toast even as we sat at the counter waiting)Overall: Great place, great coffee and atmosphere. Fridays and weekends are busy but this is somewhere you'll love.
Aviano
Avianos is an absolute must. Located in the heart of Cherry Creek mall, its an easy entry for our list of best coffee shops in Denver. The first thing that strikes you is the atmosphere with the open concept where the shops floor to ceiling, garage style, doors are wide open spilling out into an absolutely beautiful patio surrounded by a nice modern garden type of layout, shaded by winding Oak trees. This is one where you just have to see my videos in my coffee guide on youtube or take a look at the photos in this post. In fact, you really need to do both. Finish reading then head over to my youtube channel and watch my Denver series of videos.
As for the coffee, the shop is extremely modern with an island type setup on the inside and very knowledgeable Baristas. They work quickly and efficiently. We also noted that they were consistent with their quality across the board and that is huge. As I said earlier, even if you have 4/5 great experiences, that one bad one will always ring in the back of your mind. No such problem with Aviano. High quality beverages regardless of what we ordered, consistency and and hands down best outdoor vibe.
If you're looking for a modern, chic, coffee shop in a trendy area with amazing ambiance. This is your place.
What we loved:
WINNER Best Outdoor Vibe
Very good beverages all around (Cortado, Cold Brew and Caps!)
Great inside design.
Quick service from knowledgeable staff.What we weren't crazy about:Can get busy due to its location within the mall area.
Limited food options.
Overall: A must visit. Even if you end up preferring a different location for the coffee, the ambiance makes for a unique experience. Great way to spend some time outdoor while enjoying a caffeine hit.
Can we say hello dopamine and endorphins?
Coffee Buggy
SO COOL!!! I had to start that way. Before getting into my review, write this down "Visit Coffee Buggy In Denver". This is a one of a kind type of experience. You're LITERALLY walking up to a buggy (yes, the car. Aka Beetle) and ordering your coffee based beverage from the window where there's a tray station. Inside is a very nice man who prepares your beverage and serves it. We couldn't catch him this trip as he had some family matters to attend to but WOW, this is just so cool. Now here's the best part. You're probably thinking ok, that's novel, maybe I'll visit for novelty sakes. NO! Well yes, it is novel but NO that's not the only reason. The coffee is extremely good. The winner here for me was the cold brew, which I love in the summers, but I tried his normal coffee as well and it was fantastic.
Now, we weren't able to get the photos we wanted since he was out of town when we planned to snap some high quality pics but we do have some from a previous visit. Totally worth looking at my youtube videos to see some live action on this experience. Trust me!
What we loved:
ITS A BUGGY PARKED ON THE STREET SERVING COFFEE!
Awesome Cold Brew
Super friendly, super cool owner
WINNER – Best for photographs (picture you beside a coffee buggy)
What we weren't crazy about:
Honestly, the limited exposure makes it hard to find any faults. Being a road side buggy, you can't expect food so we can't comment there. You don't get crowds inside since there is no inside – but you go there knowing that.
So the Buggy benefits from not having to be rated in those ways but that works out!
Overall: If you visit one place, this may just be it since its the one where you just can't find it in other cities.
Novo
Novo is last but not least on our list. The atmosphere is pretty cool. Its a bit darker in terms of decor but the big floor to ceiling windows make up for that. The Cappuccinos and Cortados are good as well and the blends used were very nice. The service is also nice. So what puts it over the edge and gets it on this list? COLD BREW! Their Cold Brew was absolutely dynamite. Almost literally, its an explosion of caffeine, flavor and happiness. If you know Cold Brews then you know they're naturally a bit stronger. Novo's Cold Brew is bold in flavor and caffeine. The taste was addictive and that puts them on our list.
What we loved:
WINNER – Cold Brew
Rarely over crowded
Does everything else well.
Nice staff.
What we weren't crazy about:No patio.
Ambiance could be a bit brighter.
Overall:
Solid coffee shop all around with an absolute killer coldbrew. You can't go wrong here.
Have you tried any coffee locations in Denver? What are your favorites?